The Wright Stuff: Warm thanks for weathering the storm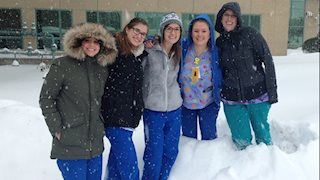 Warm thanks for weathering the storm
I want to thank the hundreds of employees who worked tirelessly to keep things running at WVU Medicine-Ruby Memorial Hospital during Winter Storm Jonas. From the clinical employees providing direct care to our patients to those who maintained operations, they didn't miss a beat. They rallied in response to this weather emergency.
Many spent several days and nights on or near campus. They worked extended hours, took on extra responsibilities, and volunteered in other departments. They did all of this to ensure our patients continued to receive the highest quality of care.
Coordinating all of these efforts were those working the Command Center. This multidisciplinary group did a phenomenal job of managing logistics.
This was an immense snowstorm, and there were many acts of heroism – too many to list here. But I will share a few examples that highlight the positive attitudes that were on display.
Charlene Crowder and Marlene Nutter are sisters who work in Materials Handling. They worked all weekend to make sure departments had the necessary medical supplies. When they were offered a hotel room, they declined, asking to stay in the hospital, instead, so that they could be available to fill orders.
Joe Goss, of Linen Distribution, delivered linens house-wide during the storm. He worked 35 hours – at times, working alone.
And Mariah Davis, a phlebotomist who stayed at a nearby hotel, made numerous trips – on foot – between HealthSouth and Ruby. She performed blood draws and transported the blood back to the lab for testing. She also transported blood products for transfusion.
And I can't even fathom the amount of snow our landscapers removed from our parking lots and sidewalks.
These employees, along with many, went "above and beyond" this weekend. They walked to work, brought in food, answered phones, dug out cars and performed other duties to keep operations running and spirits high.
The WVU Medicine community really came through for our patients – and each other. I am so thankful for their dedication and commitment.
We're in the business of saving lives. That was never more evident than it was this weekend.
Albert L. Wright, Jr.
President and Chief Executive Officer, WVU Medicine - WVU Hospitals
Chief Operating Officer, WVU Medicine