The Wright Stuff: Work Here / Live Here / Thrive Here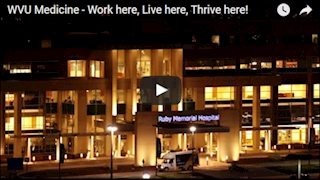 Work Here / Live Here / Thrive Here
A message to the WVU Medicine-Ruby Memorial Hospital Family
It is a time of unprecedented growth at WVU Medicine – growth that will ultimately improve the health and quality of life of the thousands of men, women and children we serve in the state and region.
As we expand our services and facilities – while at the same time improving our quality – we need to expand our faculty and staff. Our Human Resources (HR) team is actively recruiting for close to 1,000 positions. This includes more than 137 faculty physicians, 300 RNs, and 400 staff positions.
While we have employment needs at all our facilities, the new 10-story tower at Ruby Memorial Hospital, which will be operational the first quarter of 2017, is driving our recruitment efforts.
For the first quarter of 2016, HR received and reviewed 15,686 employment applications, or nearly 150 a day. That's a lot. More than 500 new employees started working here during that timeframe, with many more set to arrive in the coming weeks. A total of 176 RNs and 73 physicians have been hired this year.
While there is a lot of interest in WVU Medicine, we want to attract and retain the best and brightest. To help with recruitment, a new video, "Work Here / Live Here / Thrive Here," has been produced. The video really captures this institution and the amazing people who work here. The video also beautifully showcases Wild, Wonderful West Virginia.
Please take a few minutes to watch the video, and share it with your family and friends. And be sure to check out our new careers website – wvumedicine.org/careers. We know our employees make the best brand ambassadors.