Back to

News
The WVU HSC Tumor Microenvironment (TME) Center of Biomedical Research Excellence announces Pilot Project Program Awards
2020 Spring TME Pilot Grant Award Competition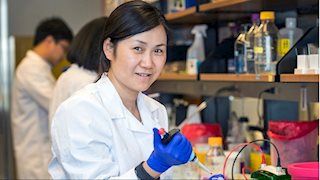 The Tumor Microenvironment Center of Biomedical Research Excellence (TME CoBRE) expects to support one Pilot Project in the range of $25,000 to $50,000 in direct costs for one year during the funding period June 1, 2020 – May 30, 2021.
The purpose of this funding opportunity announcement (FOA) is to support basic and translational pilot projects focused on the tumor microenvironment which utilize our research cores, enable acquisition of preliminary data for a federal grant application, and cultivate a team of new investigators as project PL's for our Center of Biomedical Research Excellence.
Applications will be reviewed for feasibility based on the $50,000 maximum and the scope of work specifically covered by that support. Applications chosen for CoBRE pilot support, for which there is compelling additional support needs beyond the scope of the work reviewed, will be forwarded to the Office of Research and Graduate Education for consideration of additional institutional investment to increase the subsequent competiveness of the project. However, projects and associated budgets should be limited to the $50,000 maximum noted for this mechanism.
Applications must describe a pilot-type research project that fits well with the scientific theme of the TME CoBRE and will provide preliminary data for a substantial extramural research project grant application. Preference will be given to projects that benefit from one or more TME CoBRE Core Facilities.
Project areas that fall within the scientific focus of the TME CoBRE include the tissue, cells, and stroma that are adjacent to tumor cells that play a significant role in tumor dormancy, tumor progression, therapeutic response or dissemination. In addition extracellular tumor signaling that is bi-directional and dynamic is of significant interest.
Details on eligibility, deadlines, and criteria can be found on the FOA.