Back to

News
Too much light may darken mood of hospital patients, say WVU researchers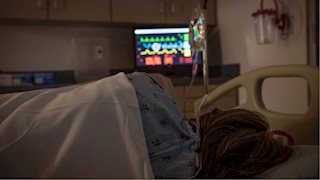 This time of year can cause trouble for people with seasonal affective disorder, a type of depression that the waning daylight of autumn evokes. But new research by West Virginia University researchers Randy Nelson and Courtney DeVries suggests that getting too much light—instead of too little—may trigger depression, too.
Specifically, Nelson and DeVries are interested in how light at night affects the mood of hospitalized people.
"We're trying to mimic what happens in intensive care units," said Nelson, who chairs the Department of Neuroscience in the School of Medicine. He and DeVries are also associated with the WVU Rockefeller Neuroscience Institute and Cancer Institute.
ICU patients never sleep in a truly dark room. Even if it's 3 a.m., doctors and nurses need enough illumination to check vitals, draw blood, give injections, start IVs and sign into electronic-records systems.
All that light, however, might increase the risk of depression in their patients once they return home. And depression could make it harder for some patients to sleep well, stick to a healthy diet, follow through with medical treatments and fully recover.
"We worry about that," Nelson said.
In a new study funded by the National Institute of Neurological Disorders and Stroke, they and their colleagues exposed two groups of animal models to different amounts of light at night. One group experienced nights in complete darkness. The other was exposed to light as dim as "a kid's nightlight about two meters from your face," Nelson said.
After just three nights, the mice that spent their nights in dim light exhibited more "depressive-like" behaviors than the ones that spent their nights in the dark.
They also had smaller amounts of a molecule associated with blood-vessel growth in the hippocampus, a part of the brain that's important for regulating emotions. And in female models—but not male ones—three nights of dim light were enough to elevate an inflammatory biomarker in the hippocampus.
"After four weeks of dim light at night, you see it in males, too," said Nelson, who—along with DeVries—receives support from the West Virginia Clinical and Translational Science Institute.
Nelson, DeVries and their colleagues suspect that these physiological changes in the brain may contribute to the behavioral changes they saw in the mouse models.
They're starting to investigate whether different lighting schemes can prevent or reverse the depressive behaviors they observed. They're even expanding their scope to include human trials. For example, they plan to install ICU lighting that shifts from a bright, bluish white during the day to a warmer tone at night.
"It will fade out to sunset colors during the night," Nelson said. "It'll look peachy."
What they discover may influence how hospital rooms are lit in the future.
"We have a lot of data showing that vasculature shrinks very quickly from very minimal exposure to light at night, which we think might get in the way of helping stroke and other cardiovascular patients," Nelson said.
Likewise, people who stay in psychiatric hospitals—even briefly—may find that the lack of darkness harms their moods.
"As a next step, we also plan to determine whether adjustments in lighting regimes improve outcomes in behavioral health facilities," said DeVries, a professor in the School of Medicine.
Nelson said, "We wonder, 'Are hospitals set up in the best way to promote healing?' Some things about them that help with patient monitoring—checking vitals and all those kinds of things—may make patients not heal as quickly as they could."
Citation
Title: Acute exposure to low-level light at night is sufficient to induce neurological changes and depressive-like behavior
DOI: https://doi.org/10.1038/s41380-019-0430-4
Link: https://www.ncbi.nlm.nih.gov/pubmed/30520047
Research reported in this publication was supported by the National Institute of Neurological Disorders and Stroke, a division of the National Institutes of Health, under Award Number R01NS092388, and the West Virginia Clinical and Translational Science Institute. WVCTSI is funded by an IDeA Clinical and Translational grant from the National Institute of General Medical Sciences, under Award Number U54GM104942, to support the mission of building clinical and translational research infrastructure and capacity to impact health disparities in West Virginia. The content is solely the responsibility of the authors and does not necessarily represent the official views of NIH or CTSI.
-WVU-
see/11/XX/19