Toothman Ford provides chase car for Bonnie's Bus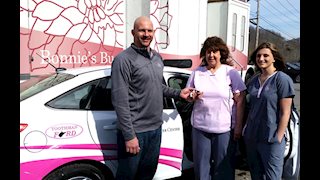 MORGANTOWN, W.Va. – Toothman Ford in Grafton is teaming up with the Bonnie Wells Wilson Mobile Mammography Program (Bonnie's Bus) to help spread the word about the Bus as it travels across West Virginia providing mammography services to women in the communities where they live. The dealership generously donated a chase car for Bonnie's Bus and unveiled the specially designed vehicle during a ceremony on Monday at Toothman Ford.
"We are a part of the community and feel good about having our name associated with Bonnie's Bus in the fight against breast cancer in West Virginia," JR Toothman, owner of Toothman Ford, said. "Breast cancer is something that touches close to home. My best friend's wife is undergoing treatment, and a couple of my employees lost their mothers to the disease."
The new chase car is white with pink graphics and bears three logos, including that of Bonnie's Bus, Toothman Ford, and the West Virginia University Mary Babb Randolph Cancer Center.
"It is pretty snazzy looking," Annetta Brewer, Bus mammographer, said. "We are going to draw a lot of attention to the Bus and the service it provides with this car."
Bonnie's Bus wracks up about 25,000 miles a year. Wednesday's visit to Gilbert (Mingo County) marked the first time the new chase car went out on the road with the Bus.
Since Bonnie's Bus was launched in 2009, it has provided 8,698 mammograms and has discovered 32 new cases of breast cancer. It is the state's only mobile digital mammography unit and is the only program nationwide that serves an entire state.
Toothman Ford is a privately owned, full-service Ford franchise that has served Grafton, W.Va., and surrounding areas for more than 46 years. An active presence in the greater Grafton community, Toothman Ford maintains a deep-seated commitment to sponsoring local projects, foundations, and events to include: the Cancer Center and Bonnie's Bus, WVU Children's Hospital and its annual Gala, MS Walk for Life, and Taylor County Schools Partners in Education. For more information on Toothman Ford, visit www.toothmanford.com.
Made possible by a generous gift from West Virginia natives Jo and Ben Statler to the Cancer Center, Bonnie's Bus is operated in partnership with WVU Hospitals. The bus is named after Jo Statler's late mother, Bonnie Wells Wilson. For more information about Bonnie's Bus, visit www.wvucancer.org/bonnie.
Photo identifications: (from left to right) JR Toothman, owner of Toothman Ford in Grafton, and Bonnie's Bus mammographers Annetta Brewer and Cheera Rinker
--WVU HEALTH--
15-053
For more information: Amy Johns, Director of Public Affairs, 304-293-7087
ss: 03-16-15