Topping out ceremony to commemorate final beam of Southeast Tower; photos of signing available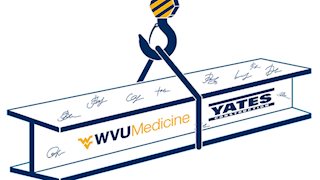 Employees invited to sign the final beam Sept. 9-16
Construction on the Ruby Memorial Hospital Southeast Tower is approaching an important milestone. The final steel beam will be raised Wednesday, Sept. 16.
WVU Medicine will celebrate the occasion with a topping out ceremony at 1 p.m. in parking lots C9, located in front of Ruby. Everyone is welcome.
In addition, beginning Wednesday, Sept. 9, WVU Medicine employees are invited to sign the 35-foot steel beam. Stop by the outdoor area between the HSC Healthy Cafe and Chestnut Ridge to sign the beam. Click here to see a photo gallery of the beam signing.
During the Sept. 16 ceremony, speakers include WVU Medicine – WVU Hospitals President and CEO Albert Wright, Yates Construction Project Manager Brandon McCulloch and WVU Medicine Spiritual Care Director John Hardman, who will provide the blessing of the beam.
Refreshments will be available at the end of the ceremony.