Town hall to focus on children's health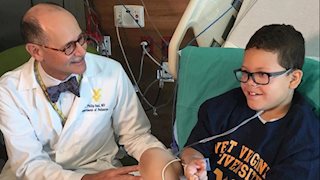 ​​​​​​​Thurs., Oct. 19, noon in Okey Patteson Auditorium, WVU Health Sciences Center
Pediatric physician J. Philip Saul, M.D., will be the special guest at an open forum for Health Sciences and WVU Medicine faculty, staff and students at noon on Thursday, Oct. 19, in the Okey Patteson Auditorium of the WVU Health Sciences Center. The topic will be, "WVU Medicine Children's and the Health of West Virginia."
Dr. Saul is executive vice president of WVU Medicine Children's. In that role, he's responsible for WVU Medicine services to children, mothers, and adolescents both in the hospital and at locations across West Virginia.
He will be hosted by WVU Vice President and Executive Dean for Health Sciences Clay Marsh, M.D. They will discuss the role of WVU Children's in proving the health of young West Virginians, recent developments to make pediatric services available across the state, new research initiatives, and other topics.
Much of the session will be a Q&A with audience members.
The session will be available online for those who cannot attend in person: http://www.hsc.wvu.edu/live-feed.