Trauma honoree's gift gives North Fork Elementary students bike helmets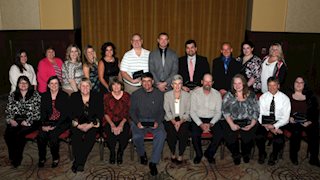 John Pingley gives back to WVU Medicine Trauma Center that saved his life
MORGANTOWN, W.Va. – A second chance at life — that's how John Pingley, a construction worker from Riverton described his recovery from a severe car accident in 2011. He's using his second chance to give back to those who helped him.
On Thursday morning, Oct. 22, every one of the 114 students at North Fork Elementary School in Pingley's home county of Pendleton received a brand new bike helmet, a gift from the WVU Medicine John Michael Moore Trauma Center (JMMTC), courtesy of a donation from Pingley.
The helmets were presented to the students at the school. The presentation was made by Pingley; and JMMTC staff members Holly Riley, R.N., Holly Treen, R.N., and Leslie Willard, R.N.
"Mr. Pingley is an inspiration to all of us," Alison Wilson, M.D., director of the WVU Medicine Trauma Center, said. "The fact that he worked so hard to recover and return to meaningful work and then saved up the money to make this donation is just an awesome thing to do."
Pingley spent a year saving up to donate to the Trauma Center in gratitude for the care he received.
Pingley was honored at the 2013 JMMTC Night of Recognition for his dramatic recovery. When a dump truck tore the driver's side door off his car, lodging his abdominal organs in his chest and fracturing several bones, Pingley was air-lifted by HealthNet Aeromedical Services to the Trauma Center at Ruby Memorial Hospital. He spent eight and a half hours in surgery and two weeks in the hospital before returning home to recover.
Pingley's accident and recovery are recorded in a video created for the 2013 JMMTC Night of Recognition. The video, along with other patient stories, is posted on the WVU Medicine YouTube account.
Photo caption: John Pingley (seated, center) and his family pose with members of the trauma team who cared for him at the 2013 WVU Medicine Jon Michael Moore Trauma Center Night of Recognition.
--WVU MEDICINE--
15-160
For more information: Amy Johns, Director of Public Affairs and Creative Services, 304-293-7087
sw: 10-19-15