Two patients receive free hip, knee surgeries at WVU Medicine through Operation Walk USA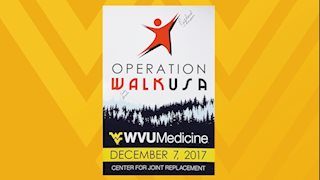 MORGANTOWN, W.Va. – Richard Thompson of Wheeling and Cynthia Lawrence of Lost Creek are receiving the gift of mobility this holiday season. They underwent free total knee and hip replacements, respectively, at WVU Medicine J.W. Ruby Memorial Hospital through Operation Walk USA.
Operation Walk USA takes place each December in an annual tradition of giving back. The program provides all aspects of treatment – surgery, hospitalization, and pre-and post-operative care – at no cost to participating patients who may not qualify for government health coverage, have insurance, or afford surgery on their own.
From Dec. 4-9, an estimated 60 patients will receive free joint replacements from 40 volunteer orthopaedic surgeons at 36 hospitals. Lawrence and Thompson had their surgeries yesterday (Dec.7) and are expected to return home today. In addition to the surgery, Thompson, whose surgery was performed by Matthew Dietz, M.D., will also receive free physical therapy from Country Roads Physical Therapy in Wheeling. Brock Lindsey, M.D., performed Lawrence's surgery.
"We are very committed to this program. It has become an annual tradition and a way we can all give patients a new lease on life," Benjamin Frye, M.D., orthopaedic surgeon and director of the Operation Walk USA program at WVU Medicine, said. "These individuals will start the new year with mobility and renewed hope and spirit. This is a real collaborative effort, and we appreciate the support of our local volunteers, primary care physicians and their staff, and the donors and supporters for their generous time and expertise."
Operation Walk USA began in 2010 following the tremendous success of Operation Walk, an international volunteer medical service organization that provides treatment for patients with arthritis and joint conditions in developing countries. To date, 702 patients received help through Operation Walk USA. Since inception, Operation Walk USA provided knee and hip replacement surgeries valued at more than $18.9 million.
Arthritic disease is the most common cause of disability in the U.S., affecting approximately 46 million Americans, or more than 21 percent of the adult population. The debilitating end stages of hip or knee degenerative disease often makes working or completing even the simplest of daily tasks – lifting a child, getting into the car, running errands, or traveling on business – exceedingly difficult and challenging.
"While knee or hip surgery may be the answer, many patients may not be able to afford it, are not sure where to turn, or know what options may be available to them," Dr. Frye said. "That's where Operation Walk USA comes in and can truly change a person's life. We're so proud to be a part of this program and to be able to provide this service to our patients."
For more information: Angela Jones-Knopf, Manager of Media Relations, 304-285-7259