UHC celebrates Pulmonary Rehabilitation Week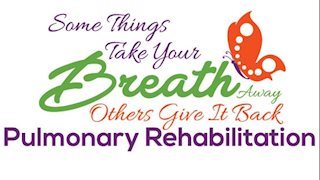 BRIDGEPORT, W. Va. – United Hospital Center celebrates Pulmonary Rehabilitation Week, March 13-19. The goal is to promote awareness of the role pulmonary rehabilitation plays in enhancing the quality of life for those who struggle to take a breath.
"Some Things Take Your Breath Away, Others Give It Back," this year's theme, honors individuals who struggle to overcome shortness of breath and the pulmonary professionals who work every day to alleviate that struggle and improve patients.
"We invite the community to join UHC's pulmonary rehabilitation celebration to focus attention on pulmonary rehabilitation's contribution to the enhancement of the life of the person with chronic obstructive pulmonary disease," Cheryl Farley, UHC coordinator of cardiac and pulmonary rehabilitation, said.
Pulmonary rehabilitation is a program for patients with chronic lung disease, like emphysema or chronic bronchitis. Greater visibility is needed for the chronic pulmonary patient who constantly lives with shortness of breath and faces a future of declining health.
At UHC, the pulmonary rehabilitation center is designed around individuals suffering from these conditions, as well as those seeking services that will help them learn how to improve their pulmonary health. It is a program based on exercise and education, with the intent to slow the disease progression and help people live a more productive life, as well as a better quality of life. Almost anyone can benefit from pulmonary rehabilitation, and no one is too old or young.
The UHC rehab program features state-of-the-art fitness equipment, including treadmills, free weights, arm ergometers, Nu Steps, and stationary bicycles. The highly specialized staff works closely with each patient and his or her physician in developing individualized exercise treatment plans to meet their needs. These workouts are conducted under the supervision of registered nurses specially trained in pulmonary care who monitor each person's vital signs to measure the body's response to the exercise.
Pulmonary rehabilitation at UHC is a nationally certified program through the American Association of Cardiovascular and Pulmonary Rehabilitation (AACVPR). Pulmonary rehab nurses, physicians, dietitians (available), and other healthcare providers are available to help you improve your activity tolerance and modify your risk factors so that you can live a healthy lifestyle, both at home and at work. Each patient works toward these goals at his or her own pace and according to individual needs.
Phase II and III of pulmonary rehab is located on the first level of UHC at 327 Medical Park Drive in Bridgeport. If you would like more information concerning the UHC Pulmonary Rehabilitation Program, call 681-342-2425.
For more information: Matt Chisler, Director of Public Relations at United Hospital Center, 681-342-1611