UHC holds School of Radiologic Technology graduation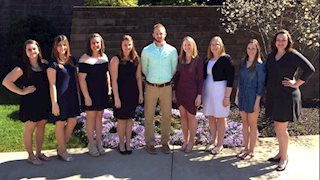 Bridgeport, W.VA. — The United Hospital Center School of Radiologic Technology recently conducted commencement exercises for the 2016 graduates. Diplomas were presented to 10 students from Program Director Rose Trupo and clinical instructors Jane Bray, B.S., R.T., and Lisa Knight, R.T., on Saturday, May 14 at the Bridgeport High School Auditorium.
Ashley Vincent, R.T.(R), served as guest speaker, while the class address was delivered by Kylie Plybon and Bethany Allman. Special presentations included Radiography Clinical Excellence Award presented to graduate Trevor Shepler; the Radiography Academic Excellence Award presented to graduate Allie Gregory; and the Laurie D'Anselmi Technologist of the Year award to Micala Myers, R.T. (R), staff technologist at UHC.
Rising senior radiologic technology students were recognized during the commencement, and the recipients of two scholarships were also announced. Micah Ford of Weston received the Marsha K. Snively Memorial Scholarship from Ed Snively. Allison Lovins of Pineville received the Robert M. Timmons Memorial Scholarship from the 2015 recipient, Katy Brugnoli.

The 2016 graduates of the School of Radiologic Technology are:
Bethany Allman, daughter of Mike and Melissa Allman of Clarksburg;
Katy Brugnoli of Richwood, daughter of Gary and Karen Brugnoli;
Kristin Burnside, wife of Paul Burnside and daughter of Kevin and Terry Hutson, all of Salem;
Alexandria Gregory of Simpson, daughter of Hollis and Liz Gregory;
Bridget McClain, daughter of Barry and Brenda McClain of Shinnston;
Kylie Plybon, daughter of Mark and Joanne Plybon of Mount Clare;
Trevor Shepler, son of Daryl and Alisa Shepler of Ritchie County;
Katelyne Smith, daughter of Jody and Jennifer Smith of Middlebourne; and
Shay Yonaley of Sistersville, daughter of Brad and Julie Yonaley.
All will be employed by United Hospital Center as part-time staff radiographers, while Brugnoli and McClain will be entering the UHC Diagnostic Medical Sonography Program, and Smith will continue her education at WVU Hospitals Nuclear Imaging Program.
For more information: Matt Chisler, Director of Public Relations at United Hospital Center, 681-342-1611