United Health Foundation donates $50,000 to Teen Challenge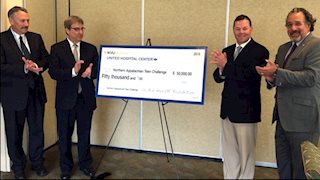 BRIDGEPORT, W.Va. – What began as teenage experimentation with smoking cigarettes eventually led Mike Stewart into a downward spiral with a life out of control, fueled by drugs and alcohol. He flunked out of college, was unemployed, and looking at becoming homeless. He'd lost his friends; his family didn't know how to help.
Fast forward 16 years -- Mike Stewart now directs Northern Appalachian Teen Challenge and is working on bringing a new facility to the Clarksburg area. He's been there, done that, and can relate better than anyone who's in what used to be his shoes.
After entering and even completing many programs, his turnaround began when he discovered Teen Challenge, which for more than 50 years has offered Christ-centered, biblically based ministries to help people with life-controlling problems.
The work — and success — of Teen Challenge has so impressed United Health Foundation that it has donated $50,000 to the local Teen Challenge. As Bridgeport physician Jonathan Stanley, D.O., infectious diseases, explained, West Virginia faces a statewide epidemic in illicit drug abuse, making the work of Teen Challenge especially relevant.
United Hospital Center takes care of young addicted adults with life-threatening illnesses due to their habit. Now that Teen Challenge is in the area, it will offer a discharge plan after hospitalization, with a chance to cure the underlying opioid addiction. These patients often need long term antibiotics and cannot be discharged.
"Specifically, the increase of intravenous drug abuse has led to so many new cases of both Hepatitis B and C that West Virginia nearly leads the nation in new diagnoses. This epidemic has also led to increases in life-threatening infections resulting in prolonged hospitalizations and even death. Northern Appalachian Teen Challenge will give people healthy avenues to get the help they need," Dr. Stanley said.
Through Teen Challenge, Stewart learned he couldn't do things on his own.
"That first week I lay awake in my bunk and thought about my life," Stewart said of joining the faith-based program. "I remember how it felt like I was being scrubbed from the inside out."
Stewart went through the year-long program, which centered on following Christ and changing his life, and he hasn't touched drugs or alcohol since.
The Bridgeport native graduated from the program and went to college, working toward a degree in business marketing when he felt a calling to go into the ministry. He joined Northern Appalachian Teen Challenge in 2009 as executive director and is looking to open the Clarksburg center hopefully this year debt-free, serving up to 22 boys ages 12 to 17.
Now he finds joy helping others who are going through the same thing he did.
"I'm an open book. I share where I was and where my life has taken me today and what's caused that change," said Stewart, who speaks at schools and churches.
For more information on Northern Appalachian Teen Challenge, call 304-933-3209 or go to http://wvteenchallenge.com.
Photo caption: Pictured left is Mike Tillman, CEO of United Hospital Center; Ted Lopez, board member of United Health Foundation; Mike Stewart, director of Northern Appalachian Teen Challenge; and Tom Gorrell, chairman and board member of United Health Foundation.
For more information: Matt Chisler, Director of Public Relations at United Hospital Center, 681-342-1611