United Way campaign continues; photo gallery available, raffles winners announced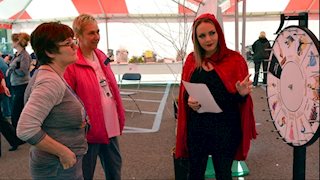 The WVU Medicine United Way campaign is entering its final weeks, but it's not too late to make a pledge.
This year's goals is $200,000. Every gift is important. Whether it is $1, $10, $1,000 – every single dollar helps make a difference in our community. Please consider making a donation (link available on CONNECT) to help those in need in Monongalia and Preston counties.
Click here to see a photo gallery (available on CONNECT) of a Storybook Adventure, a fund-raising event held Nov. 4 outside of the Emergency Department.
Below is a list of basket winners from the Storybook Adventure raffle.
Basket

Winners

Rise and Shine

Michelle Statler

Hopeful for the Holidays

Onnie Bergman

Picture Frame and Lottery Tickets

Denise Porter

It's Your Lucky Day

Kristi Goodwin

Fall Baking and Décor

Gwen Vieneg

Bippity Boppity Boo – New Shoes and A Night Out

Stephanie Faulkiner

Coffee Basket

Paula Sexton

Pet Basket

Loretta Hearn

Wall Hanging Basket

Marie Vandergrift

Family Game Night

Barb Garbutt

Warm Drinks for Cool Days

Lisa Moherme

Bear with Lottery Tickets

Kim Clark

Golf Basket

Joni Mentus

Date Night

Spencer Lee Sigley

Harvest Basket

Diana Savage

WVU Tailgate Essentials

Michelle Cutlip

WVU Lotto Luck

Patty Rosenberger

"Reel" Family Night

Wayne Park

Car Kit

Tim Mills

WVU Shirt and Jacket

Josh Dodd