University Healthcare Berkeley Medical Center receives Gold Seal for Joint Replacement Program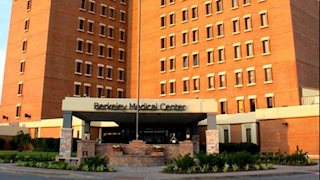 MARTINSBURG, W.Va. – WVU Medicine Berkeley Medical Center recently earned The Joint Commission's Gold Seal of Approval™ for its Total Hip and Knee Replacement Surgery Program, demonstrating compliance with The Joint Commission's national standards for healthcare quality and safety in disease specific care.
Berkeley Medical Center originally earned this distinction in 2012 and again in 2014. The Medical Center's Total Hip and Knee Replacement Program was recently re-certified following a rigorous onsite evaluation in May by a Joint Commission expert. Berkeley Medical Center was evaluated for compliance with standards of care specific to the needs of patients and families, including infection prevention and control, leadership, and medication management.
"In achieving Joint Commission certification for another two-year cycle, the staff at Berkeley Medical Center and our team of orthopaedic surgeons have demonstrated our commitment to the highest level of care for patients undergoing total hip or knee replacement surgery," Anthony P. Zelenka, WVU Medicine University Healthcare president and CEO, said.
The Total Hip and Knee Replacement Program at Berkeley Medical Center is comprised of a multidisciplinary team representing surgery, anesthesia, nursing, pharmacy, quality, physical therapy, occupational therapy, food and nutrition, and social work.
"This team approach enhances the individualized, patient-centered care delivered at every stage – from pre-admission to acute hospital stay and discharge," Zelenka said. "Achieving the prestigious Joint Commission certification for the third time distinguishes us for the excellent care the orthopaedic team provides to our patients and demonstrates our ongoing commitment to improving patient care."
The Joint Commission's Disease-Specific Care Certification Program, which was launched in 2002, is designed to evaluate clinical programs across the continuum of care. Certification requirements address three core areas: compliance with consensus-based national standards; effective use of evidence-based clinical practice guidelines to manage and optimize care; and an organized approach to performance measurement and improvement activities.
For more information: Teresa E. McCabe, University Healthcare Vice President of Marketing and Development, 304-264-1223