Back to

News
Running Clinics Continue in 2016!
University Healthcare, The Wellness Center, Local Physician Offer Running Clinics, Training Program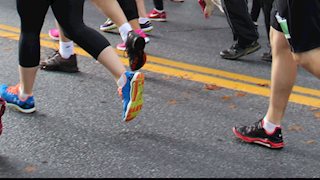 "I always loved running. It was something you could do by yourself, and under your own power. You could go in any direction, fast or slow as you wanted, fighting the wind if you felt like it, seeking out new sights just on the strength of your feet and the courage of your lungs." Jesse Owens
Have you always wanted to run? Are you new to running? An avid runner who wants to improve performance? Prevent injury? Dr. Mark Cucuzzella will be conducting monthly Running Clinics at The Wellness Center at Berkeley Medical Center.
Cucuzzella, nationally ranked distance runner, local physician and founder and organizer of Freedom's Run and the Harpers Ferry Half Marathon, will be conducting running clinics to promote proper form, injury prevention and improve performance. The clinics are geared to runners of all levels. The next clinic will be Friday, February 19 from 5-6pm.
Clinics will be held in the Aerobics Room in The Wellness Center on the campus of the Berkeley Medical Center. The program is FREE and open to all. Pre-registration is required. To register call 304-264-1287, ext. 31814 or email ddejarnett@wvuhealthcare.com
For information on group runs and ongoing clinics please visit the Freedom's Run Headquarters Website at Two Rivers Treads www.tworiverstreads.com .