Back to

News
Vandalia - Con Steampunk Convention to benefit Bonnie's Bus coming Oct. 18-20th to Morgantown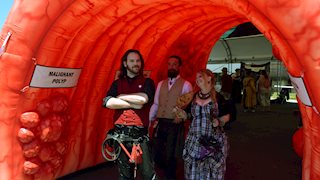 Event Date: 10/11/2019
Vandalia-Con
Vandalia-Con is West Virginia's premiere Steampunk Convention held on October 18-20th at the Hampton Inn and Suites at University Towne Centre. One hundred percent of proceeds benefit Bonnie's Bus Mobile Mammography Program. Vandalia-Con is a weekend of classes, games, performances, tea-parties, competitions, and even a Masquerade Ball! Costumes and cosplay are welcome but not required. For the full schedule or to purchase tickets go to the Vandalia-Con Facebook page or find them on Eventbrite. https://www.facebook.com/vandaliacon.org/.
Vandalia-Con Community Health fair
Vandalia-Con invites you to the Vandalia-Con community health fair on October 19th from 9am-1pm at the Hampton Inn and Suites at University Towne Centre. Admission is free. Some services provided include wellness screenings, free STI testing, wellness checks, cancer education, oral cancer screenings, tobacco cessation, flu shots, and more. Vandalia-Con's Community health fair is an LBGTQ safe space health destination. Bonnie's Bus will be providing mammograms that day. A doctor's order for screening may be obtained on site. Medicare, Medicaid, WVBCCSP and all private insurances accepted. Funds are available to cover the cost of a mammogram for uninsured WV women age 40 or over. To schedule your mammogram call 304-293-2370.
Caption: Participants at the 2018 Vandalia-Con Steampunk Convention tour the "Strollin' Colon" a large inflatable section of a colon that is used to illustrate polyps and other colon abnormalities.