Vicki Chase chosen as inaugural WVU Medicine-WVU Hospitals Magnet Nurse of the Year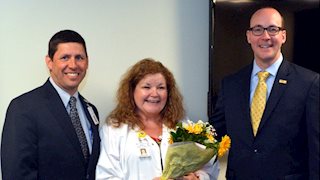 Award given as part of National Nurses Week
MORGANTOWN, W.Va. – For her many years of dedicated service and embodiment of exemplary professional practice, Vicki Chase, M.S.N., R.N., department coordinator for the Diabetes Education Center, has been named the WVU Medicine-WVU Hospitals Magnet Nurse of the Year.
Chase received her award at a luncheon today (May 9). The other finalists were Tiffany Muhly, B.S.N., R.N., nursing supervisor for Ruby Memorial's trauma, orthopaedics, and neurology/neurosurgery units, and Lisa Henry, A.P.R.N., nurse practitioner at the WVU Heart and Vascular Institute.
In nominating Chase for the award, Mary Fanning, D.N.P., R.N., director of nursing administration at WVU Medicine-WVU Hospitals, wrote that she has personally witnessed Chase leaving a legacy with patients, families, peers, and staff throughout her more than 30 years of clinical experience.
"Serving in various specialty roles throughout her tenure, Vicki has always been a strong advocate for WVU Medicine's care delivery system," Fanning wrote. "Being rooted in the Appalachian culture and the mother of five children, she consistently promotes family involvement in patient care."
Fanning went on to note that Chase has "spearheaded multiple systems improvements to assure patients are receiving evidence-based care," including positively impacting post-operative outcomes for newly diagnosed diabetics and the creation of a new insulin administration protocol, which has resulted in ongoing improvements in patient management.
"Vicki Chase has made exemplary professional practice at WVU Medicine come to life. The numbers of students, nurses, and interprofessional staff she has mentored are too numerous to count," Fanning wrote. "WVU Medicine-WVU Hospitals management, staff, patients, and families all agree Vicki Chase is our Magnet Nurse this year and every year."
Last year, the nursing staff at Ruby Memorial earned the hospital its third consecutive Magnet designation from the American Nurses Credentialing Center. The Magnet Recognition Program® recognizes healthcare organizations that have a proven track record of excellence in nursing services. Fewer than 400 of the nearly 6,000 hospitals in the U.S. have received Magnet designation. Ruby is the only hospital in the state to receive Magnet designation.
The first national week of recognition for nurses was celebrated October 11-16, 1954, to observe the 100th anniversary of Florence Nightingale's mission to Crimea. National Nurses Week was first observed on the current dates, which coincide with Nightingale's birthday on May 12, in 1991, and it became an annual event in 1994.
Photo caption: Vicki Chase, M.S.N., R.N. (center) receives the Magnet Nurse of the Year Award from Doug Mitchell, R.N., B.S.N., M.B.A, WVU Medicine-WVU Hospitals vice president and chief nursing officer (left) and Albert Wright, WVU Medicine-WVU Hospitals president and CEO and WVU Medicine-West Virginia University Health System chief operating officer.
For more information: Angela Jones-Knopf, Manager of Media Relations, 304-293-7087