Wedding bells at Ruby Memorial Hospital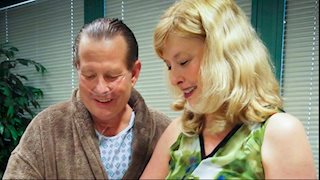 MORGANTOWN, W.Va. – When the hospital staff arrived at WVU Medicine Ruby Memorial Hospital last Tuesday morning, they didn't realize they were attending a wedding. And who could blame them – the bride didn't know either.
"When I woke up this morning, I did not know that today would be the day," the new Mrs. Angela Douglas said. "Rich said the chaplain was coming today to meet with us to do our premarital talk. And he tells the chaplain today, 'Well, how about today?' So two hours later, here we are! We're married."
Richard and Angela Douglas were joined in marriage on February 2 in a private ceremony in Rich's hospital room. Hospital chaplain John Hardman, director of Spiritual Care, performed the ceremony.
"It's really an honor that they would ask for me to do that. A lot of things we do here are on the sad side of life, so it's exciting to get to be part of something that is uplifting and of a celebration sort," Hardman said. "They clearly were ready for this. He said to me, 'I should have done this sooner.'"
Richard Douglas, M.D., a neurosurgeon at WVU Medicine United Hospital Center, became ill in December with a persistent infection and will likely need to remain in the hospital for several more weeks. Because he was medically unable to leave the hospital for the ceremony, the hospital staff worked fast to bring a ceremony to the couple.
Friends Gift Shop donated a bouquet, and in just two hours the Ruby Cafeteria provided a wedding cake and refreshments. The newlyweds toasted their marriage with ginger ale on ice.
"That was a total shock," Angela said. "The reception, the cake, all that the nurses and staff here at Ruby did, that was a total shock. I was just totally blown away by the staff here. They were so nice and put a smile on his face for sure, and mine as well."
Rich and Angela met at UHC, where they both worked, in 2005. They began dating in 2010, and they discussed marriage off and on before Rich's illness affirmed their commitment to each other. They began the process of obtaining a marriage license and rings about two weeks ago.
Amanda Tringhese, R.N., manager of nursing services on Douglas's floor, said she has seen one other wedding on this floor in the past eight years.
"It's pretty amazing. We need to take the time to celebrate the good times in life. It's pretty special to coordinate with all the different services and people that are willing to drop what they're doing and, in less than two hours, make it a special time for this couple," Tringhese said.
For a couple whose relationship bloomed while working together in a hospital, exchanging their vows in a hospital was no obstacle.
"I think it's wonderful," Angela said. "Two people can get married anywhere if they love each other."
--WVU MEDICINE--
For more information: Angela Jones-Knopf, Manager of Media Relations, 304-293-7087