West Virginia Geriatrics Updates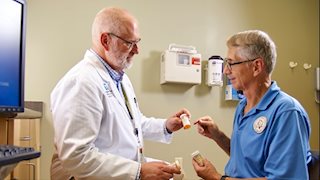 Geriatrics Lunchtime Learning
Wednesday, October 26, 2016 12:00 noon – 1:00 p.m.
"Opioids in WV: Balancing an Epidemic of Misuse and Abuse with the Ethical Duty to Prudently Treat Pain"
SPEAKER:
Carl Grey, M.D.
West Virginia University School of Medicine
Department of Internal Medicine
Assistant Professor, Supportive Care and Geriatric Medicine
Associate Director, WVU Center for Health Ethics and Law
The lunchtime learning events are held on the fourth Wednesdays of most months and will start again in January 2017.
Save the date!
Advanced Geriatrics Skills or AGES 2017, will be held at the WVU Health Sciences Center, Charleston Division on March 9 – 10, 2017. AGES is a continuing education training event that increases competency of health professionals who care for older adults. The evidence-based curriculum enhances the skills and understanding of major geriatric syndromes, psychosocial and ethical issues, and interprofessional models of care.
Annual Scientific Assembly
WVGEC collaborated with the WV Geriatrics Society for the 12th Annual Scientific Assembly, "Helping our Patients Make Decisions" that was held September 28th. Other partners included the University of Charleston School of Pharmacy, WV Partnership for Elder Living and Hospice Council of WV. Copies of the sessions can be downloaded from the website www.wvgeriatrics.org/resources
WVGS is a statewide interdisciplinary organization dedicated to improving the health, well-being and healthcare of older adults. It is an affiliate of the American Geriatrics Society.
Osher Lifelong Learning Institute (OLLI) Events
OLLI events started this month at the WVU Extension office in Kanawha City. View the full schedule here.