West Virginia Grand Bash moved to June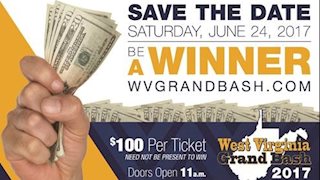 Tickets on sale now, hundreds of thousands of dollars in prizes
MORGANTOWN, W.Va. – Save the date for the fourth annual West Virginia Grand Bash! The event is trading snow for sunshine, moving the date from January to June. The Grand Bash is an annual event that benefits WVU Medicine Children's.
The event will be held from 1 to 7 p.m. on Saturday, June 24, 2017, at the Ruby Community Center at Mylan Park in Morgantown.
Tickets are available now both online and at retail outlets throughout Pennsylvania and West Virginia.
More than 50 prize drawings will be held during the event. Prizes include a Ford F-150 Raptor, Yamaha Waverunner FX Cruiser HO, diamond earrings from Joyce's Jewelry, a 2017 Jeep Patriot Sport SE, a Kenyan Family Safari, a 2017 Harley-Davidson Night Rod Special, an Island of Maui trip for two, a Home Theater Package, cash prizes, and many more.
One ticket holder will walk away with the $100,000 grand prize.
Tickets are $100 each, and only 10,000 tickets are available. Each ticket holder is allowed to bring one guest per ticket held. Guest admission is $20 and is to be paid in cash at the gate upon entry.
Early ticket purchase is encouraged to take part in the New Year's Bonus. All tickets purchased prior to 11:59 p.m. on Sunday, January 22 will be entered to win an additional $500 check. Four lucky winners will be drawn for this early bird prize.
Live music will be provided all day courtesy of Schmitt's Saloon.
Doors open at 11 a.m. The drawings start at 1 p.m., leading up to the grand prize drawing at 7 p.m. Tickets will be drawn every five minutes with the exception of an intermission at 4 p.m. Ticket holders need not be present to win.
The West Virginia Grand Bash provides funding to WVU Medicine Children's helping with children and maternal wellness. Last year, 65,500 pediatric patients visited the hospital and clinics more than 200,000 times. Support for events such as this increases the number of services available to West Virginians and those around the region.
To purchase tickets and for additional information, call 304-598-4346. Information on ticket outlets, registration, rules, and a complete list of prizes for the event can be found online at www.wvgrandbash.com.
For more information: Sarah Wisniewski, Communications Specialist, 304-293-7087