West Virginia Public Theatre production confronts opioid abuse, veterans' issues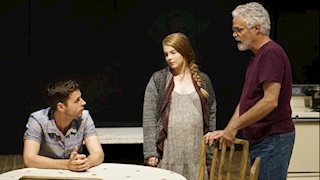 A Hatful of Rain shows June 20-24 at the WVU Creative Arts Center
Presented in collaboration with WVU Health Sciences, A Hatful of Rain tells the story of American war hero Johnny Pope as he faces new battles on the home front. Celia and Johnny Pope live in New York with Johnny's brother, Polo. As Johnny's heroin addiction becomes too much to handle, Celia and Polo begin a new romance. A Hatful of Rain confronts addiction, foster care and the difficulties of Korean veterans returning from war while telling a beautiful love story.
Health professionals from WVU Medicine will be available before and after each performance with information and resources to emphasize the importance of collaboration in tackling daunting social issues such as the opioid crisis. A post-show discussion about substance use disorders will be held after the 2 p.m. matinee performance on June 24.
Performances will be held in the Gladys G. Davis Theatre at the WVU Creative Arts Center at 7:30 p.m. June 20 – 24, with an additional matinee on Sunday, June 24 at 2 p.m. Tickets are $18-23. More information is available at the West Virginia Public Theatre website or on Facebook, Twitter and Instagram, @wvpublictheatre.
Photo: At the basement theater of West Virginia University's Creative Arts Center in Morgantown, actors Matt Webster, Sadie Belle Freeman, and director Jerry McGonigle rehearse of A Hatful of Rain. (Credit: Glynis Board | West Virginia Public Broadcasting)