West Virginia's first ECMO program offers hope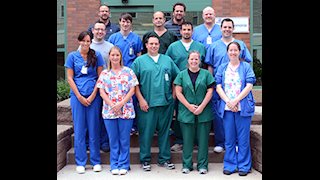 MORGANTOWN, W.Va. – No one wants to hear a negative prognosis for oneself or for a loved one and especially not for a child. But at WVU Children's Hospital at Ruby Memorial, a new program offers hope for critically ill and injured children.
The first extracorporeal membrane oxygenation (ECMO) program in the state of West Virginia opened in November at WVU Healthcare and WVU Children's.
ECMO is a form of life support that removes blood from the patient's body, runs it through a machine that removes carbon dioxide and replaces the oxygen in the blood, then returns the blood to the patient's body. The process takes the strain off the patient's heart and lungs to allow him or her to recover from an injury or illness.
ECMO is used if a patient with a reversible illness has a greater chance of dying than surviving, even with the maximum level of medical care. If a patient is deteriorating or no longer improving on his or her current course of care and increasing the therapy would harm the patient, the physician may recommend ECMO.
Patients from premature infants to adults suffering from a wide range of ailments may benefit from ECMO. The procedure has helped newborns with meconium aspiration syndrome, people waiting for heart or lung transplants, and patients with certain cardiac problems. Interest in the procedure grew during the H1N1 flu pandemic in 2009 when ECMO was used to support patients with lung failure, allowing the lungs time to recover.
"ECMO is a technique that acts as a bridge," William D. Patten, M.D., director of the ECMO program at WVU Children's, said. "It gives time – either the time to heal and come off ECMO or time for a transplant."
Dr. Patten began the process of starting an ECMO program at WVU Children's Hospital when he arrived in 2009 from Miami Children's Hospital.
"It was nice to come aboard an institution that saw a future of growth and wanted to be the best not only in the state but in the region. I felt that it would be a great accomplishment if we could bring this technology to WVU Children's Hospital, as well as Ruby Memorial, to continue the growth that the institution is currently experiencing," Patten said.
He received approval for the program in 2013 and has collected and trained a dedicated team of specialists, including ECMO coordinator David Mayer, R.N., perfusionist Bridgett Keeley, eight registered nurses, and four respiratory therapists.
"We are the only hospital in West Virginia that has this program. We are keeping the state up to date with technology and keeping up to date with the medical world and with other states and bigger institutions," Mayer said.
The team anticipates reaching the goal of becoming a Center of Excellence recognized by the Extracorporeal Life Support Organization (ELSO), the regulatory agency for ECMO centers.
"People in West Virginia should realize that West Virginia University is a pioneer of this technology," Patten said, referring to Herbert Warden, M.D., who started the Section of Cardiothoracic and Vascular Surgery at WVU in 1960.
The ECMO technology stems from cardiac bypass technology. Dr. Warden was one of the team of surgeons at the University of Minnesota that performed one of the world's first successful complex open heart surgeries. The procedure used cross-circulation, in which the young patient's blood was pumped through his parent for oxygenation then pumped back into the child, bypassing the heart so the operation could take place. Warden later performed the first open heart surgery in the state of West Virginia on March 13, 1962, using an early heart-lung machine.
"From there, it was people thinking out of the box: 'How could we take this technology that we use in our open heart surgeries and use it long term?'" Patten said. "Finally, the technology has caught up with the idea of this therapy."
The first successful long-term use was with a patient who was involved in a motor vehicle accident and was on ECMO for 72 hours in 1971. At that time, the ECMO machine was nearly the size of a room. Today, the machine is about the size of a lunchbox.
Use of the ECMO machine for more than six hours is considered an off-label use according to the U.S. Food and Drug Administration because no manufacturer will produce a study showing its safety and effectiveness longer than six hours, although the technology is used to save lives regularly by institutions nationwide. The average length of time nationally for a patient to be on ECMO is about 10 days.
The use of ECMO does come with risks, such as bleeding, blood clots, stroke, and death. ECMO is only used, however, if the patient's risk of dying is already greater than his or her probability of survival. The ECMO team evaluates whether the patient's probability of surviving with ECMO is greater than its associated risks.
"Everything we do in medicine is risk-benefit," Patten said. "That's why a patient has to be failing medical therapy to be a candidate for ECMO."
Patient outcomes for ECMO vary depending on the illness. For instance newborns with meconium aspiration syndrome, when an infant inhales amniotic fluid, have a 94 percent survival rate using ECMO. In fact, most recent adult studies show patient survival rates increase just by being treated at an ECMO center.
The ECMO program at WVU Children's Hospital and at WVU Healthcare allows more West Virginians to find the care they need in their own state. This cutting edge technology has the potential to reduce the state's mortality rate and give hope to both children and adults suffering from life-threatening illnesses and injuries.
Photo caption: The ECMO team poses for a photo after its first training session. (L to R) Front row: Ashley Thrower, R.N., Sunny Brumage, R.N., Chad Basinger, R.T., Anna Fazenbaker, R.T., Krista Pyles, R.N.; Second row: Zach Kochy, R.N., Shane Brost, R.N., Sam Renzella, R.T., Adam Klamut, R.T., Michael Schwalm, R.N.; Back row: William Patten, M.D., David Mayer, R.N., Matt Busch, R.N.; Not pictured: Megan McKay, R.N.
--WVU HEALTH--
15-003
For more information: Angela Jones-Knopf, News Service Coordinator, 304-293-7087
sf: 08-05-14