West Virginia State University and WVU School of Medicine partner to offer pre-medical track program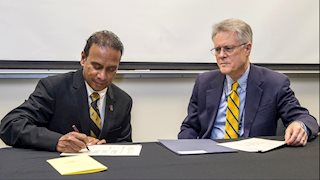 College students in the Kanawha Valley considering a health care career will have a new program to help guide them as they navigate the road to medical school
In an effort to recruit highly qualified and prepared students, West Virginia State University (WVSU) is partnering with the West Virginia University School of Medicine (WVU SOM) in a pre-medical track program. The curriculum will provide outstanding pre-medical students at WVSU with a physician mentor, shadowing experiences and other opportunities to assist them as they begin their education journey.
A memorandum of understanding was signed between the two institutions on Friday as part of WVSU's Undergraduate Research Symposium. The partnership will add WVSU to a group of state universities that offer this important undergraduate curriculum. John C. Linton, Ph.D., A.B.P.P., associate vice president and dean of the WVU SOM's Charleston campus and Kumara Jayasuriya, Ph.D., WVSU provost and vice president for academic affairs, represented the schools at the ceremony in WVSU's Hamlin Hall.
"We are excited at the opportunity this agreement creates for our students who are interested in attending medical school," said Dr. Jayasuriya. "The addition of this pre-medical track program further strengthens our commitment to support the higher education needs of the state and region."
Founded in 1891 as a historically black college, WVSU has evolved to serve a population that is richly diverse in ethnicity, geography, residential/commuter, high school graduates and adult learners. The pre-medical track program will further enhance the institution's mission to support the educational needs of the community.
"Our faculty and staff at the WVU Charleston Health Sciences campus look forward to supporting and contributing to the educational opportunities afforded to WVSU's best and brightest, and to enhance the potential for the improvement and maintenance of health for all of our citizens in West Virginia," Dr. Linton said. "This program can change the lives of young scholars for the better, and we are gratified to participate with our colleagues at WVSU to further that aim."
The WVU SOM has pre-medical track programs currently established with West Virginia University, Shepherd University and Waynesburg University.
"Providing the best educational opportunities to West Virginia students is the cornerstone of the land-grant mission that WVU and WVSU share," Clay Marsh, M.D., vice president and executive dean of WVU Health Sciences, said. "With this pipeline program, WVSU students interested in medicine will have the opportunity to further explore the sciences and be exposed to the rigorous process required for applying to medical school."
WVU school of medicine faculty members from WVU's Charleston campus will offer mentoring opportunities for students in the program.
"We are delighted to forge this important partnership with WV State University and our School of Medicine and Charleston Division," Norman D. Ferrari, M.D., vice dean for education and academic affairs for WVU SOM, said. "This will be an important pre-medical undergraduate institution in southern West Virginia to help us continue to meet the healthcare needs of all West Virginians."
For updates on the WVU School of Medicine, follow us on twitter @WVUMedSchool, like us on Facebook or visit medicine.hsc.wvu.edu. Check wvutoday.wvu.edu daily for the latest news from the University. Follow @WVUToday on Twitter.