'When the training got tough, I'd think of the treatment and side effects with which my wife was dealing:' Doug's story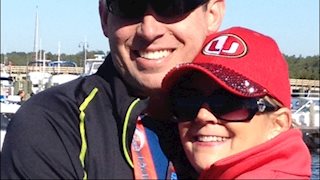 In the weeks leading up to the WVU Medicine Morgantown Marathon weekend, which was Sept. 17-18, we featured the personal stories of several runners in our community, as told by them. Though they share a common pastime, each of our guest bloggers shared his or her own motivation that got them started and keeps them moving.
WVU Medicine is proud to be the major sponsor of the 2016 WVU Medicine Morgantown Marathon Weekend, which includes an 8K race, a half marathon, and a challenging full marathon. In addition, WVU Medicine's annual Stride 5K is a popular family event for runners of all abilities. Click here for tips on getting your running habit off to a great start.
I started to think about running four and a half years ago.
I was a 48 year old non-runner. I had been seeing more and more 26.2 and 13.1 stickers on cars and learned that these were mileage badges for races that had been completed (marathon and half marathon, respectively). I became intrigued with the idea of running, and thought that I might want to complete a marathon at some point.
The idea of completing a 26.2 mile run was exciting, but overwhelming. It seemed the suffering to do so would be extreme, and even insurmountable. At the time, my wife Trish had been diagnosed with lymphoma and was undergoing treatment.
Mind you, I was still a non-runner and gave myself the goal of completing a marathon before I turned 50! I was wise enough to think it prudent to complete a half marathon before trying to complete a full. I began to do research on training required to complete a half. I decided that it would be easier to get through the training with others, so I talked with a few colleagues at work about doing it together.
We all fantasized about getting in good enough shape to complete a half together. That fantasy didn't go much beyond just that, and a year passed with no real action. So in January of the next year, having just turned 49, I brought up the idea again with my colleagues. They were positive about the idea but noncommittal on the actual training that would be required. I then decided to change my goal of completing a marathon from before turning 50 to while 50. I knew to achieve this that I needed to get moving and begin action.
When I started running, I was out of shape and wheezed loudly. But as I started my early training, I continued to read and ask questions about running. I decided to buy and use a heart rate monitor as part of my training. This was the best decision I made; it enabled me to train more effectively and safely as I got into shape. I trained through the spring and summer, running a few 5Ks and mostly enjoying the experience. When the training got tough, I'd think of the treatment and side effects with which my wife, Trish, was dealing.
I decided to sign up for the Outer Banks (OBX) Half Marathon in early November. Trish and I made the trip, and I finished the race thinking of her fight. I couldn't wait to see her at the finish line. I think she was happier for me than I was for myself! That's the way she was.
I gave myself the holidays off and began to train for my first full that next January. I had just turned 50, so I was on track to complete my new goal. I worked through late winter, spring, and summer. Trish continued with ups and downs of cancer treatment. I had signed up for the full OBX marathon in November.
As October came, I was getting very close to having trained enough to run 26.2 miles. However, during several long training runs, I experienced severe left foot pain. I had two x-rays, which were both inconclusive. During an 18-miler, the foot pain was worse, but I decided to run through it, thinking about Trish's battle.
Later that night, I could not bear weight on my foot. I saw a WVU Sports Medicine specialist and an MRI was ordered: I was not surprised to hear that I had a stress fracture. My race was over; my goal of running it while 50 would not be achieved. I have to ashamedly admit that I shed tears in the car upon receiving the news of the fracture. I quickly thought about the real battle Trish was fighting, so I got over my self-pity quickly.
Deciding to give it one more shot, I healed through the holidays and started training again in January, having just turned 51. Unfortunately, Trish became very ill in the spring and eventually was admitted into a clinical trial (stem cell transplant with randomized donor) here at the WVU Cancer Institute's bone marrow transplant unit. All trivial things – like training for a marathon – were eliminated in my life.
Trish battled with the heart of a lion, but ultimately, the treatment failed to work. She became more ill and passed away on Halloween day, last year.
Having lost my beloved wife, having my daughter away at college for the first time, having a brand new job…my life had become surreal. Feeling out of control by springtime, I decided to try to marathon one more time. I thought about going back to the Outer Banks to do it but decided it would be too difficult emotionally. So I made the decision to stay home and do it right here. It was very scary, based on the hills here in Morgantown (vs. the dead flat Outer Banks!). The running helped, and continues to help, me stay grounded.
I'm now 52, relatively injury-free (fingers crossed) and less than 48 hours from race day. During the long, hot, sometimes torturous training runs, I continue to think of Trish…how she always faced adversity with courage and strength. I believe I will finally complete this goal, and that she'll be right there with me.
Doug Mitchell, 52, is Vice President and Chief Nursing Officer at WVU Medicine - WVU Hospitals. He is the father of Abby, a student at The Ohio State University, and Cameron, who attends University High School in Morgantown.