Back to

News
With pancreatic cancer rates on the rise, WVU surgeon looks for a cure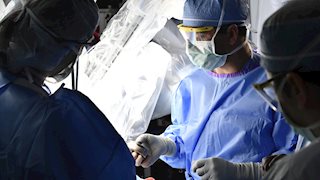 For those diagnosed with pancreatic cancer, the battle is mainly uphill. The disease is hard to identify. Treatment options are limited. Response rates are low. But, a new Hirshberg Foundation seed grant will allow a West Virginia University School of Medicine surgeon to explore new treatment therapies.
Dr. Brian Boone, M.D., will use the $40,000 grant to target the critical role of neutrophil extracellular traps (NETs) in weakening the immune system's response to pancreatic cancer progression.
NETs occur when specific immune cells, neutrophils, become activated and expel all their contents outside the cell. This forms a web of DNA and other materials that contribute to the growth of tumor cells. The components released from NETs essentially limit the effectiveness of treatments and prevent an immune response.
"Pancreatic cancer is an aggressive cancer that tends to have an early metastatic spread and resistance to therapy," Boone said. "Our research looks at inflammatory and immune responses to pancreatic cancer and its associated treatments."
In the past 40 years, pancreatic cancer survival rates haven't seen the improvement that many other forms of cancer have. In fact, it's expected to be the second-leading cause of cancer-related death in the United States by 2020.
"We know that NETs promote scarring which makes the tumor resistant to other methods – like immunotherapy—that could target and destroy the cancerous cells," Boone, who also serves a researcher in the WVU Cancer Institute, said.
Boone has been researching the role of the NET formation process in mouse models and hopes to use the funding to expand on the study.
"Mice that are incapable of forming NETs due to genetic deletion of PAD4, a critical part of the NET machinery, have decreased pancreatic tumor growth," said Boone. "Fortunately, there are specific drugs that target NETs and PAD4, known as PAD4 inhibitors. There's merit in testing these drugs in animal models of pancreatic cancer to determine if they can prevent tumor growth and spread of the cancer to other organs."
And while Boone hopes this grant will pave the way for continued studies, current pancreatic cancer treatment options are limited. Only 9% of those diagnosed will be living in five years -- meaning finding treatment options is critical to improve the life expectancy of patients. Pancreatic cancer typically progresses with only vague symptoms and no early detection tools. However, when caught early enough tumors can be removed surgically.
WVU is one of only a few hospitals in the country to offer robotic Whipple procedures -- a minimally invasive approach that allows for removal of a pancreatic tumor in the early stages and offers the best chance for a cure.
Whipple procedures remove parts of the pancreas, small intestine, gallbladder, and bile duct and the reattaches organs to allow patients to digest food normally following surgery.
"For now, surgery remains the best option for early stage pancreatic cancer," Boone said. "We believe that by inhibiting PAD4/NETs, we will activate the immune system to fight the cancer and expand the treatment options available to those who are diagnosed with the disease."
Founded in 1997, the Hirshberg Foundation for Pancreatic Cancer Research is a national, nonprofit organization dedicated to advancing pancreatic cancer research, and providing information, resources, and support to pancreatic cancer patients and their families.
A portion of the grant will fund student research. Abby Ivey, a MD/Ph.D. student, in her first year in the Cancer Cell Biology program, is part of the research team. Her training and dissertation research are funded, in part, with the Hirshberg dollars.
For more information on the WVU School of Medicine, visit medicine.wvu.edu.
-WVU-
cat 11/12/19
CONTACT: Cassie Thomas
Communications and Marketing Director
WVU School of Medicine
304-293-3412, cassie.thomas@hsc.wvu.edu