Working in WV: PACE Enterprises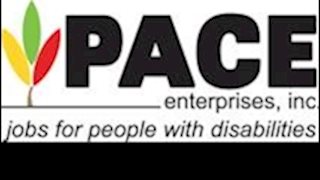 Every morning, at about 7:25, busses roll up to PACE Enterprises in Mylan Park. The passengers are local people with disabilities reporting to their jobs. Just inside the building are job coaches and supervisors ready to go to lay out the day's duties. In PACE's Beehive Café, food service workers have already been at work and the coffee is hot. As the riders disembark their busses, you hear laughing, small talk, and the occasional grumble…remember its 7:30 on a weekday morning. Every person on the bus has a significant disability. "Many of our people don't drive and we depend on public transportation and our in-house transit program to get them to work," said Greg Morris, President and CEO of PACE Enterprises.
Since 1972, people with disabilities have been coming to work at PACE. Some stay in the building to work in PACE's document shredding department or work in the Beehive Café, which serves meals to the public and also delivers boxed lunches. Many more go out to work at sites throughout Greater Morgantown. Workers at PACE perform facility maintenance, grounds care, administrative duties, and many other jobs. Morris said "We see the ability in each person, rather than the disability. At PACE, each person uncovers talents and a personal work ethic."
PACE's mission is to help people with disabilities obtain meaningful employment PACE operates on the principle that every individual should be able to experience the dignity and respect that comes from having a job that matches his or her needs and interests. It seeks to make meaningful difference in the community, not only by improving its employees' quality of life, but also allowing them to earn income on their own.
But the money is only a small part. It's about dignity, friendships, pride in accomplishment. Having a job helps people to see that they are significant. When people don't work they suffer deficits, not just financial, but deficits of purpose, emotional well-being and social connection. We see the disabled poor as lacking material things, but its perceived inferiority, powerlessness, hopelessness, and isolation that really hold them back. They don't have goals and aspirations. The antidote to all of that negativity is going to work.
For example, PACE has a contract with the Department of Highways to maintain the I-79 Welcome Center just inside the border with Pennsylvania. "We're in charge of the first impression visitors get of West Virginia," said Morris. That facility is staffed around the clock, every day of the year with workers that have significant disabilities. They are proud that no matter how deep the snow, they get there to take care of the travelling public.
PACE is much more than a social service agency providing services to people with disabilities, although it does do that. It is also a Social Enterprise that applies commercial strategies to maximize improvements in the lives of its workers. PACE provides goods and services that compete alongside similar businesses in West Virginia. It does so in a business-like manner, making sure that every venture is financially sound and that every worker is paid a fair wage.
In 2016, West Virginia University's College of Business and Economics worked with the leadership of PACE to facilitate a plan for the future. As part of that process, WVU looked at the economic impact of PACE on its community and found that PACE has an $8.2 million impact through the jobs that it creates. "We are able to build partnerships and alliances in the private and public sectors for the good of our community, our organization, and most importantly, the people we serve," said Morris. PACE is looking forward to continued growth and opportunity for West Virginians with disabilities.