WV STEPS open house set for Dec. 4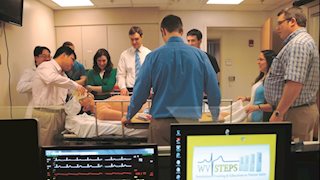 Simulation Center welcomes visitors 2:30 - 4 p.m.
The expanded and improved David and Jo Ann Shaw Center for Simulation Training and Education for Patient Safety – WV STEPS – will welcome visitors to an open house from 2:30-4 p.m. Friday, Dec. 4.The center is located on the third floor of Health Sciences South.
WV STEPS Center is an inter-professional healthcare training laboratory that provides students and clinical learners with hands-on access to patient simulators capable of everything from trembling and crying, to bleeding and giving birth. Using advanced technology, the Simulation Center helps clinical learners improve their analytical, diagnostic, communications, and crisis-intervention skills.
A recent gift from the Shaw family enabled the WV STEPS Center to expand its footprint, nearly quadrupling the educational space within the Health Sciences Center; improve computer-based systems; open a fifth simulation laboratory dedicated to "mothers and babies" that is equipped to simulate the obstetrical environment; and enhance programs, such as the Standardized Patient and the Clinical Skills program where individuals are trained to portray a patient simulating a clinical condition.