WVU Awarded $25,000 grant to promote innovations in surgical education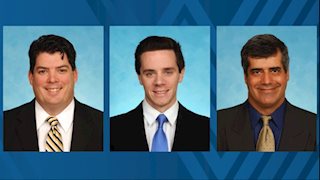 West Virginia University was awarded a $25,000 grant in 2014 by the American Board of Orthopaedic Surgery (ABOS) to create a project that would promote innovations in surgical education for orthopaedic surgery residents. That project has recently finished, and the research team has found an effective method of teaching residents how to perform a diagnostic knee arthroscopy.
Arthroscopy of the knee is one of the most common procedures performed by orthopaedic surgeons. Learning proper technical and psychomotor skills is paramount in resident education. A variety of methods have been developed to teach these skills. Each method has its own advantages and disadvantages.
The Fundamentals of Arthroscopic Surgery Training (F.A.S.T.) Program was developed as a collaborative effort of the Arthroscopy Association of North America, the American Academy of Orthopaedic Surgeons, and the American Board of Orthopaedic Surgery in 2011 to help orthopaedic residents develop basic arthroscopic skills in a sequential manner. The researchers found that the utilization of the F.A.S.T. Program, in addition to a traditional Sports Medicine rotation, demonstrated an improvement and retention of the skills necessary to perform a diagnostic knee arthroscopy
The research was conducted by WVU's E. Barry McDonough, M.D.; Kevin Shepet, M.D.; and George Bal, M.D.
Dr. McDonough is an associate professor in orthopaedics in the School of Medicine. Dr. Shepet is a resident physician in orthopaedics. Dr. Bal is an associate professor of orthopaedics and chief of the Sports Medicine Service.
"This project wouldn't have been possible without the support of ABOS," said McDonough. "We are looking at ways to improve how orthopaedic surgery residents acquire the knowledge, skills, and behaviors needed to become independent surgeons and this project is one step in that process."
A video and poster describing this project will be on display in March at ABOS' booth at the largest orthopaedic surgery conference in the world.
The American Board of Orthopaedic Surgery, Inc. was founded in 1934 as a private, voluntary, nonprofit, independent organization to serve the best interests of the public and the medical profession. These interests are achieved through the ABOS by establishing standards for the education of orthopaedic surgeons. These standards are evaluated by the ABOS through examinations and practice evaluations. More information can be found at abos.org.
--WVU--