WVU Cancer Center awarded $2.65M CDC grant to increase colorectal cancer screening in W.Va.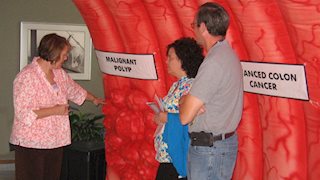 MORGANTOWN, W.Va. – The WVU Medicine Mary Babb Randolph Cancer Center will use a five-year, $2.65 million grant from the Centers for Disease Control and Prevention (CDC) to support a new initiative called the West Virginia Program to Increase Colorectal Cancer Screening (WVPICCS) aimed at early detection of the disease, which is one of the most deadly types of cancer in West Virginia.
"This is a public health program aimed at increasing colorectal cancer screening in our state to 80 percent or better,"
Stephenie Kennedy, Ed.D.
, director of
Cancer Prevention and Control
at the WVU Cancer Center and principal investigator, said. "Federal statistics show that West Virginia's colorectal cancer incidence and mortality rates are among the highest while the state's overall screening rate of 63 percent is one of the lowest in the country."
A 2013 study conducted in partnership between the American Cancer Society and the WVU College of Business and Economics looked at the economic impact of cancer in West Virginia and found that for colorectal cancer the per-patient cost of late stage diagnosis was $284,000 – more than double that of patients diagnosed at an earlier stage. The study also found that 50 percent of colorectal cancer patients in West Virginia are diagnosed at advanced stages of the disease.
"With the CDC grant, we can really make an impact on increasing colorectal cancer screening rates around the state," Dr. Kennedy said. "Colorectal cancer is preventable. With early screening, we can detect precancerous lesions and stop cancer before it starts."
During the first year of WVPICCS, Cancer Prevention and Control will reach out to primary care offices throughout the state offering them a practice-change model designed to make it easier for them to identify and encourage patients who are eligible for colorectal cancer screening to be screened. WVU program staff will engage participating primary care providers in ongoing technical assistance, evaluation, professional development training, and quality improvement.
"We will be very hands-on and work closely with the providers during the first year," Mary Ellen Conn, project director of WVPICCS, said. "By the end of the second year, the participating providers will be able to implement evidence-based interventions tailored to the needs of the patients they serve in their communities."
In addition to working directly with participating providers to increase West Virginia's colorectal cancer screening rate, the program also includes targeted public education and outreach in the form of small media interventions with community partners.
Collaborators with Cancer Prevention and Control and the West Virginia Program to Increase Colorectal Cancer Screening include the American Cancer Society, Mountains of Hope, and the WVU School of Public Health Office of Health Services Research.
For information about MBRCC Cancer Prevention and Control, see www.wvucancer.org/aboutUs/Community-Outreach.
--WVU MEDICINE--
15-126
For more information: Amy Johns, Director of Public Affairs and Creative Services, 304-293-7087
ss: 08-06-15