Back to

News
WVU Cancer Institute to launch Moonshot Initiative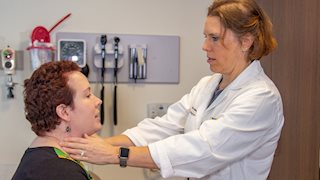 MORGANTOWN, W.Va. – The WVU Cancer Institute will begin enrolling its first patients in a National Institute of Health (NIH) Beau Biden Moonshot Initiative trial on Oct. 25 as part of a consortium of six U.S. healthcare systems with the goal of integrating the use of patient-reported outcomes into the routine practice of oncology.
The aim of the SIMPRO (symptom management implementation of patient reported outcomes in oncology) Research Center is to assess how real-time feedback from patients can help providers improve symptom management and reduce the need for emergency department visits and hospital readmissions.
The first phase of the trial will be open to patients who have undergone thoracic, gynecologic, or gastrointestinal surgery. The second phase, which will launch in early 2022, will focus on cancer patients who require a change of their chemotherapy regimen.
"Here at the WVU Cancer Institute, we serve patients who not only live across our state, but beyond its borders," Hannah Hazard-Jenkins, M.D., breast surgical oncologist at the WVU Cancer Institute and co-principal investigator on the project, said. "These patients often have to drive hours to reach our facilities. This trial will allow us to learn how we can implement technology to help them manage their symptoms and prevent complications during their recovery at home, possibly preventing the need for emergency room visits or hospital admissions."
Eligible patients will automatically be given access to an app called eSyM through MyWVUChart, WVU Medicine's patient portal, and will receive a notification of their ability to participate.
Patients will use eSyM to answer survey questions, which will be incorporated into their MyWVUChart account. They will be asked to answer the survey two or three times per week for the first month after surgery, then weekly for a total of three months.
Because eSyM will be housed within MyWVUChart, the patient's responses will be logged into Epic, the hospital's electronic medical records system, where providers will be able to see the patient's reported symptoms and react if necessary. Providers will be alerted through Epic if patients report severe symptoms.
All WVU Medicine patients are given access to MyWVUChart and are encouraged to use it to send questions and concerns to their providers. Patients are also able to attach files or images to their message.
John Makins, 54, of Bridgeport, is a skin cancer survivor who used MyWVUChart to communicate with his medical team and receive test results during his treatment at the WVU Cancer Institute.
"Anything that I felt concerned about or nervous, I would just use MyWVUChart to send my question," Makins said. "It was just really incredible because the format was so simple to use, and they answered quickly. It really seemed to work for me to keep me calm and know that things are OK."
Makins said that using MyWVUChart was the most appropriate and timely way to ask his providers questions as opposed to calling and being placed on hold.
"When you are told you have a rare and aggressive cancer and you have a 50/50 chance that you are going to make it, it is incredibly scary," Makins said. "Being able to reach my doctor and the other service providers allowed me to stay on top of things. I was able to use a cellphone to take pictures and send them in to ask if things looked like they were supposed to."
Much like the intent of the Moonshot study, Makins said the ability to communicate quickly through MyWVUChart gives people more comfort and helps them make the decision about whether they should seek immediate medical attention or if they can wait until their next visit.
"I think people go to emergency departments because they are panicking because they can't get an answer," Makins said. "Being able to send messages directly to providers can take away a lot of the pressure, concern, and worry, saving patients time and cost."
For more detailed information about this project, visit the SIMPRO Research Center website at www.eSyMCancerMoonshot.org.
Name of NIH Institution: National Cancer Institute
Grant #: UM1CA233080