WVU Charleston Campus's Jennifer Griffith Is Also a Piano Teacher Whose Students Shine This Holiday Season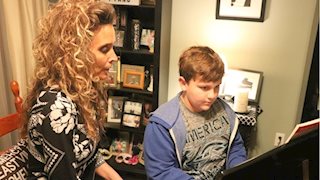 Jennifer Griffith, Program Coordinator for the Department of Internal Medicine for WVU Charleston Campus, instructs a talented group of piano students that will entertain residents of Hillcrest Healthcare Center and Black Diamond Arbors of Danville to a Christmas-inspired music program this Holiday season.
"The students have worked hard in preparation for these recitals," Griffith said. "Half of my students will perform at Black Diamond and the other half at Hillcrest."
Griffith, who works for WVU's Charleston campus during the day, scurries home when she leaves her office at 4 p.m. to welcome her first student at 5 p.m. on Monday through Thursday.
Follow the link to read the story on the Logan Banner: https://www.loganbanner.com/cvn/cv_news/instructor-celebrates-growth-of-students-with-holiday-recitals/article_d9f3da36-ff0a-11e8-aa17-cfc204a17c68.html?utm_medium=social&utm_source=email&utm_campaign=user-share
Photo by Phil Perry/Coal Valley News Piano instructor Jennifer Griffith works on a Christmas song with student Taft Berry that he will perform for an audience this holiday season.