Back to

News
WVU Charleston's Dr. James P. Griffith awarded American College of Physicians Award for Distinguished Contributions to Behavioral Medicine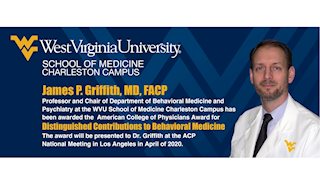 Charleston, W.Va. – James P. Griffith, MD, FACP, Professor and Chair of Department of Behavioral Medicine and Psychiatry at the WVU School of Medicine Charleston Campus has been awarded the American College of Physicians (ACP) Award for Distinguished Contributions to Behavioral Medicine. The award will be presented to Dr. Griffith at the ACP National Meeting in Los Angeles in April of 2020.
A native of Charleston, Dr. Griffith graduated from West Virginia University School of Medicine in Morgantown in 1985, with his third and fourth year clerkships at the health sciences campus in Charleston. He completed his residency training at Charleston Area Medical Center with a focus on internal medicine and psychiatry.
A professor of behavioral medicine and psychiatry, and professor of internal medicine for the West Virginia University School of Medicine, Dr. Griffith is board certified in psychiatry, internal medicine and geriatric psychiatry. He serves as medical director for psychiatric services for Charleston rea Medical Center, as well as associate dean of student services for the WVU Health Sciences Charleston Campus.
An experienced teacher, mentor, author and researcher, Dr. Griffith was honored in 2017 with the David Z. Morgan Mentor Award by the West Virginia University School of Medicine Alumni Association, an award whose mission is to recognize educators with the ability to understand, inspire and develop in students the qualities needed to be competent and compassionate physicians.
"This award is a very big deal, and underscores Jim's nationwide recognition in developing and nurturing the residency in medicine and psychiatry here at WVU's Charleston Campus in particular. But more generally, it represents his long term devotion to the integration of psychiatry and medicine not only in practice, but in service to the education of medical students, residents, and allied health professionals," said John C. Linton, PhD, ABPP, Associate Vice President for Health Sciences and Dean of the School of Medicine at West Virginia University's Charleston Campus. "Dr. Griffith continues to make us proud."
Established in 2014, the Distinguished Contributions to Behavioral Medicine award recognizes distinguished contributions to the integration of behavioral medicine with traditional medicine by honoring an individual who has furthered the care of patients by recognizing the importance of caring for the whole patient, both mind and body. This can be through research or clinical innovations.
The ACP was founded in 1915 to promote the science and practice of medicine, and since then has supported internists in their quest for excellence. By sharing the most updated medical knowledge, offering top-notch educational resources, and a wide array of additional benefits, ACP has shown a commitment to internal medicine and those who practice it.
A diverse community of internal medicine specialists and subspecialists united by a commitment to excellence, ACP internists apply scientific knowledge and clinical expertise to the diagnosis, treatment, and compassionate care of adults across the spectrum from health to complex illness. With 159,000 members in countries across the globe, ACP is the largest medical-specialty society in the world. ACP and its physician members lead the profession in education, standard-setting, and the sharing of knowledge to advance the science and practice of internal medicine.