WVU Children's Hospital is headed to the Rose Parade®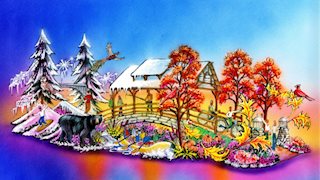 MORGANTOWN, W.Va. – Each New Year's Day, the world turns its attention to Pasadena, California, where the Rose Parade® presented by Honda has been dazzling audiences with its floats, bands, and equestrians for more than a century. This coming New Year's Day, WVU Children's Hospital – the only Children's Miracle Network Hospital in West Virginia – will become a part of this storied history.
"We are thrilled to welcome WVU Children's Hospital to America's New Year Celebration®. It is our hope that the millions of people watching the Rose Parade on January 1 will learn more about the beauty of West Virginia and connect with the families who call the state home," said Mike Matthiessen, 2016 Tournament of Roses president.
The theme for the 127th Rose Parade is "Find Your Adventure." The 55-foot float representing WVU Children's Hospital and its "Wild and Wonderful" home state of West Virginia will show all the adventures that await patients and their families once their treatment at WVU Children's is complete. Children's Miracle Network Hospitals® is a sponsor of the float. The organization is hosting a national fundraiser to raise funds and awareness for its 170 member hospitals across North America, including WVU Children's Hospital.
The design of the float, which was inspired by California-based artist and Morgantown native Lorraine Strieby, captures the flora and fauna of West Virginia's four seasons and the recreational activities – like whitewater rafting and skiing – that can be had in each season. In addition, two iconic West Virginia landmarks – the New River Gorge Bridge and The Greenbrier Springhouse – also appear on the float, which is being built and decorated by Phoenix Decorating Company.
"We are so proud to showcase real Wild, Wonderful West Virginia in this year's Rose Parade," Commissioner of Tourism Amy Shuler Goodwin said. "This is an incredible opportunity for us to show millions of Rose Parade viewers the real adventures families can enjoy in the Mountain State. From whitewater rafting, camping, and skiing to wildlife, scenic beauty, and historic landmarks, you'll find it here."
Representing the adventures that can be had throughout West Virginia will be six former WVU Children's Hospital patients, their families, and the healthcare providers who helped them make it to their next adventures. The patients are:
Jordan Beland, 15, of Martinsburg
Justyn Jenkins, 17, of Clarksburg
Samantha Stalnaker, 11, of Mount Nebo
Meg Throckmorton, 19, of Waynesburg, Pa.
Brody Wilmoth, 7, of Morgantown
Tyler Yost, 8, of Fairmont
"We are honored to get the opportunity to tell the WVU Children's Hospital story on such a magnificent stage as the Rose Parade," Albert Wright, president and CEO of WVU Healthcare, said. "People in Morgantown and throughout West Virginia and the surrounding region know about the miracles that happen here every day. It's time we share that with the world, and we are definitely looking forward to it."
There are various opportunities for anyone to get involved and be a part of the Children's Miracle Float.
One option is to purchase a rose vial for The Garden of Miracles on the float, which offers supporters of WVU Children's the opportunity to celebrate or remember the miracles in their lives by dedicating a Miracle Rose. Each rose attached to the float will be placed in a vial that carries a personal message.
The centerpiece of the Children's Miracle Float is a covered bridge designed with 55 bricks in recognition of West Virginia's 55 counties. Interested individuals and businesses can sponsor a county brick, which will be hand decorated and will display the county name. After the parade, the bricks will be returned to their sponsors.
Another option is to sponsor the individuals riding on the float to help defray the costs of their travel and stay in Pasadena.
For information on these and other ways to support the Children's Miracle Float, visit www.miraclenewyear.com.
Those interested in traveling to Pasadena to help decorate the float and see it make its way down Colorado Boulevard can purchase a special travel package that includes lodging, ground transportation, parade-related events, and optional sightseeing and day excursions. For more information, contact Al Brooks Rose Bowl Tours at 800-228-4849.
About WVU Children's Hospital
WVU Children's Hospital – located on the sixth floor of Ruby Memorial, WVU Healthcare's flagship hospital – provides maternal, infant, and pediatric care for West Virginia and the surrounding region, giving care to high-risk mothers, premature infants, and children with life-threatening conditions through adolescence to adulthood. For information on WVU Children's Hospital, see www.wvukids.com.
About the Tournament of Roses®
The Tournament of Roses is a volunteer organization that annually hosts the Rose Parade®, the Rose Bowl Game®, and a variety of associated events. Nine hundred thirty-five volunteer members act as ambassadors of the organization and contribute upwards of 80,000 hours of manpower each year. The 127th Rose Parade presented by Honda and themed "Find Your Adventure," will take place Friday, January 1, 2016, followed by the 102nd Rose Bowl Game presented by Northwestern Mutual. Learn more at www.tournamentofroses.com and on Facebook, Twitter, Instagram, and YouTube.
About Children's Miracle Network Hospitals®
Children's Miracle Network Hospitals® raises funds and awareness for 170 member hospitals that provide 32 million treatments each year to kids across the U.S. and Canada. Donations stay local to fund critical treatments and healthcare services, pediatric medical equipment, and charitable care. Since 1983, Children's Miracle Network Hospitals has raised more than $5 billion, most of it $1 at a time through the charity's Miracle Balloon icon. Its various fundraising partners and programs support the nonprofit's mission to save and improve the lives of as many children as possible. Find out why children's hospitals need community support, identify your member hospital, and learn how you can Put Your Money Where the Miracles Are, at CMNHospitals.org and facebook.com/CMNHospitals.
--WVU MEDICINE--
15-125
For more information: Angela Jones-Knopf, News Service Coordinator, 304-293-7087
ajk: 07-16-15