WVU Dental Care to provide special care to kids' teeth for 13th Annual Give Kids a Smile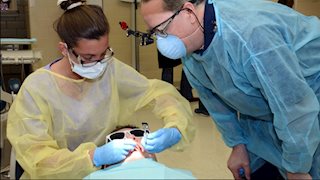 MORGANTOWN, W.Va. – WVU Dental Care will celebrate National Children's Dental Health Month by offering free examinations, cleanings, appropriate X-rays, and fluoride treatments to children ages one to 17 from 9 a.m. to 5 p.m. on Friday, Feb. 19 in the WVU Pediatric Dentistry Clinic at the WVU Health Sciences Center.
The appointments are part of the annual "Give Kids A Smile!" national dental access program of the American Dental Association and the West Virginia Dental Association. WVU dental and dental hygiene students will perform the care under the supervision of the faculty. Appointments are required, and space is limited. To schedule an appointment for the free exam, call 304-293-0401.
Each appointment provides roughly $100 worth of dental care at no cost. Last year, the clinic was able to deliver approximately $10,000 of free care to children and teens.
Oral health habits in early childhood can have a big impact on oral health in adult life, so it's important to get kids to the dentist early in life. Give Kids A Smile helps to make that early dental care available to West Virginia's kids.
The American Academy of Pediatric Dentistry and the American Academy of Pediatrics recommend that children see a dentist after they get their first baby tooth and no later than their first birthday. An early visit enables a dentist to determine the child's risk of cavities so that preventive action can be taken before the first cavity appears.
"Give Kids A Smile Day is a special event for us. Ours is one of more than 1,000 events nationwide that are designed to bring children that are not regular patients to the dentist," Michael Bagby, D.D.S., interim chair of WVU Pediatric Dentistry, said. "Our goal is to screen children for their dental needs, educate them and their parents about oral health, and invite them to become patients at our pediatric clinic."
The clinic expects to see 15 children every 45 minutes for a total of 135 patients throughout the day. Participants in past years have ranged from existing patients to children who have never seen a dentist. Children of all needs and levels of care are welcome at the clinic.
For more information on the WVU Dental Care, visit www.wvumedicine.org/dental.
--WVU MEDICINE--
For more information: Angela Jones-Knopf, Media Relations Manager, 304-293-7087