Back to

News
WVU dental school dean reflects on ten years as a mountaineer
Dr. Anthony "Tom" Borgia joined WVU in March 2010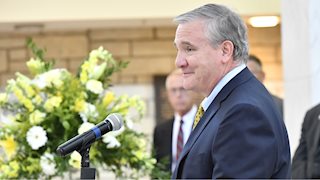 In May, West Virginia University School of Dentistry dean, Anthony "Tom" Borgia, DDS, MHA, will conclude more than a decade of leadership at the school.
"When I came to the WVU School of Dentistry in March of 2010, I thought my tenure here would be six months to a year – In my wildest dreams, I never thought that time would extend to more than ten years," Borgia said.
Background
After 35 years in private practice as an endodontist in Plymouth, Massachusetts, Borgia joined WVU's dental school in March of 2010 as an assistant professor and chair of the Department of Endodontics and director of the school's pre-doctoral endodontics program.
"My years in private practice were professionally rewarding, and the relationships I developed with patients and a devoted staff are now lifelong. It is hard to recreate those kinds of connections, but, at the school, I've had a similar experience interacting with our exceptional students, faculty, staff and our loyal and dedicated alumni," Borgia said.
With support from faculty, staff and students, Borgia began a one-year position as interim dean in 2014 before being appointed dean in July 2015.
"I have loved all of my students, faculty, staff and alumni and made many, many dear friends. In a 44-year career in dentistry, these past ten will always be the most cherished of all my memories."
Clay Marsh, MD, WVU Health Sciences vice president and executive dean, announced the administrative transition decision on Tue., March 31.
Upon becoming dean, Borgia inherited a school with significant financial constraints. Thanks to immediate assistance from Health Sciences and through his leadership, a resulting loan for significant expenses was repaid through small and steady gains each year.
"As dean of the only dental school in the state, I knew we had to continue a tradition of excellence in academic and clinical training and provide comprehensive and specialty dental care to all of our citizens," Borgia said. "West Virginian's deserve the high level of care that only this school can provide."
Goals set and met
As the incoming dean, Borgia set a goal of strengthening the school's national reputation by recruiting board-certified providers as leading faculty and program directors in the endodontics, periodontics, orthodontics, pediatric dentistry and oral surgery programs. In 2019, Borgia completed that goal when he hired the school's first board-certified pediatric dentist.
During his time as chair of the Department of Endodontics, he was able to revive and improve the department's residency program. As dean, he will watch the school's first periodontics residents complete their program this spring.
"Those are accomplishments I do take pride in. But I've always said, my success is based on the talent I have surrounding me," he said. "I appreciate all of the contributions each and every one of our faculty has made to help improve not only the reputation of the school, but also the quality of the care that we provide. Any success that I achieved was by putting the right people in the right places."
Residents in prosthetic dentistry and oral surgery have expanded their reach beyond the Morgantown clinics. Working with Wheeling Health Right and fourth-year dental students, these post-graduate students treated more than a thousand patients in the first two years of the partnership.
"The only way we can make a true difference in oral healthcare for West Virginians is by the types of collaboration we were able to develop. Without that creative thinking and willing partners, it would be difficult to provide the $763,000 in care at no cost to patients since the collaboration began," Borgia said.
In January, students had helped perform 2,229 extractions and 423 fillings, created 58 dentures and 4 partials for patients and accounted for 373 adjustments to dentures and partial. There were 506 patients on the extraction waiting list and 692 patients on the new patient list as the beginning of the year.
National significance in academic and clinical dentistry
As budgets became tighter, Borgia pursued an opportunity to bring dental school faculty, students and patients access to the latest technology and materials used in state-of-the-art oral healthcare at very little cost to the dental school. The school became just the third dental school in the nation, the first in the eastern United States, to open an innovation center working with the Center for Research and Education in Technology.
Through a collaboration with Case Western Reserve University School of Dental Medicine, dentists from both institutions are working on a new screening method for malignant oral cancer.
WVU's dental and medical schools earned a national award for excellence in military pain medicine. Together, with Uniformed Services University of the Health Sciences, dental researchers are helping explore non-pharmacological therapies in the treatment of pain.
Platform for the future
Under Dr. Borgia's advisement, the school of dentistry created a leadership council made up of representatives from the dental industry, academics and private practice to provide regional, national and international insights into strategic planning for the future of the school.
"My hope is to have made a difference. I hope to have inspired an appreciation of oral health and wellness and emphasized the profound impact our future dentists can have on their fellow citizens," Borgia said. "In my life, I've lived in nine states, with Massachusetts technically being "home". But I now consider myself a first order Mountaineer, and I'll always be a champion of West Virginia.
Dedicated, loyal and consistent, Borgia will be able to enjoy some accrued leave time prior to the end of his contract as dean on June 30, 2020. He will remain actively involved with the School of Dentistry through May 16, 2020.
"The future holds some interesting possibilities, yet to be explored by me for sure. I do know I will be enjoying coastal New England and some really fresh seafood, along with traveling to spoil a new granddaughter."