WVU Health Sciences to host nationally recognized speakers for Global Health Week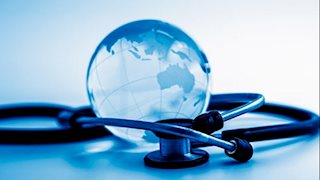 Global health experts from around the nation will take on important issues during the West Virginia University School of Medicine's 2016 Global Health Week.
The Global Health Program and the Health Sciences Center (HSC) Global Engagement Office are sponsoring this year's presentations. The lectures will feature a speaker at noon each day starting Monday, Oct. 17 through Friday, Oct. 21 in the WVU Health Sciences Learning Center, Room 1905.
"The world is a global community," Melanie A. Fisher, M.D., M.Sc., director of the Global Health Program, said. "Because we are all linked to one another, it is crucial that we discuss important issues like conflict and poverty and how they affect health. Becoming aware of these challenges gives us compassion and motivates us to learn more, so we can make a difference."
The lecture schedule and featured speakers are as follows:
Monday, October 17, 2016
"Global Perspectives on Suicide Prevention"​Eric Caine, MD
Director, Injury Control Research Center for Suicide Prevention and Chair of Psychiatry
University of Rochester Medical Center

​Tuesday, October 18:
"Pathways to Global Health Work: Perspectives on a Career in Research, Practice, and Policy"
Kata Chillag, PhD
Associate Director, Presidential Commission for the Study of Bioethical Issues
Washington, DC

Wednesday, October 19:
"A Resident Physician's Perspective of Global Health in Ghana and Guatemala"
Todd Schlossman, MD and Jenna Sizemore, MD
Global Health Track Residents in Internal Medicine
West Virginia University

Thursday, October 20:
"Why Are So Many Children Out of Sight?"
Larry Schwab, MD
Clinical Professor, Department of Ophthalmology
West Virginia University

Friday, October 21:
"Why Volunteer?"
David Fogarty, DDS, MD
Clinical Professor, Department of Surgery
West Virginia University
Lectures are open to all health professions students, residents, faculty, staff and the Morgantown community. Lunch will be provided to those who RSVP by Friday, Oct. 7 to jvisyak@hsc.wvu.edu.