WVU Healthcare celebrates state's birthday with Community Day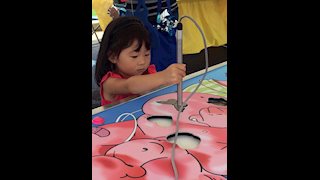 WVU Healthcare celebrated West Virginia's birthday on June 20 with Community Day at University Town Centre (UTC). More than 800 people attended the event and took 75 facility tours. The day also featured children's activities, character appearances, a live radio broadcast and more.
WVU Healthcare Vice President and Chief Ambulatory Operations Officer Darin Rogers thanked employees for their professionalism and dedication. "The Community Day at UTC was highly successful because of the efforts of WVU Healthcare employees," Rogers said. "I heard so many compliments about the UTC, providers, staff and services. Employees should be proud for making our hospital shine."
Youngsters at Community Day enjoyed tours of rescue vehicles, including an ambulance, a helicopter and fire trucks, as well as face painting and games.
WVU athletes, the Mountaineer, Hearts of Gold Service Dogs, West Virginia Black Bears mascot, Monti the Mountaineer Bear, Smokey the Bear and Woodsy Owl made appearances.
The community also had the opportunity to meet healthcare professionals from Clark K. Sleeth Family Medicine Center, Pediatric and Adolescent Practice, Women's Health, Dermatology, Podiatry, Center for Joint Replacement, WVU Sports Medicine, Orthopaedics and General Internal Medicine and Geriatrics.
"The event attracted a large audience, ranging from infants to a very pleasant 93-year-old lady celebrating her birthday," said Judie Charlton, M.D., chief medical officer. "Employees represented not only WVU Healthcare well, but also the state with a great birthday bash. The event and everyone's efforts were very impressive."
WVAQ broadcasted live from the Community Day event.