WVU Heart and Vascular Institute helps lead the way in mitral valve disease research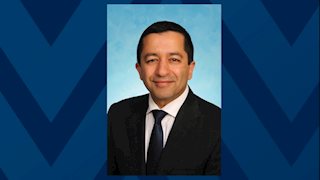 MORGANTOWN, W.Va. – A recent study co-authored by Vinay Badhwar, M.D., executive chair of the WVU Heart and Vascular Institute, and his national colleagues suggests that many patients do not undergo surgical intervention for mitral valve disease until it is too late to completely reverse the damage.
"Across the country, mitral valve surgery is now being performed with low risk and good outcomes overall and with high rates of repair for mitral valve prolapse," Dr. Badhwar said. "Our study indicates that despite established guidelines on the timing of when to operate for a leaking mitral valve, patients are still coming to surgery fairly late. Patients who may be asymptomatic or hesitant to have this done as a conventional open procedure may be more inclined to have this potentially life-altering operation as a minimally invasive procedure. Here at the WVU Heart and Vascular Institute, we not only specialize in advanced mitral valve repair, but we routinely offer minimally invasive robotic surgery for these conditions."
The study examines the current state of affairs of isolated mitral valve surgery in the U.S. Data from The Society of Thoracic Surgeons Adult Cardiac Surgery Database (ACSD) was analyzed to identify trends in patient characteristics and outcomes of mitral valve operations in North America. The ACSD contains more than 6.5 million cardiac surgery procedure records, representing more than 90 percent of all adult cardiac surgery hospitals across the U.S. and Canada.
"We have internationally established long-term outcomes for patients with this problem," Badhwar said. "Mitral valve prolapse is not a benign entity. Many may innocently but erroneously interpret that having a leaky mitral valve is fine and one can live his or her whole life with it, but that is simply not the case. The longer one waits, especially if the leakage is severe, one's heart function quietly decreases, and the survival of patients can decrease rapidly over time. Commonly, this is something we can very readily repair, rather than replace, and it is most often the only treatment patients need for the rest of their lives."
The study found that patients undergoing primary isolated mitral valve operations commonly have ventricular dysfunction, atrial fibrillation, and heart failure. Although contemporary outcomes are excellent, earlier guideline-directed referral and increased frequency and quality of repair may further improve results of mitral valve operations.
The mitral valve lets blood flow from the left atrium to the left ventricle. Mitral valve disease occurs when the valve does not close properly, causing regurgitation of blood back into the left atrium, or the valve becomes narrow, causing mitral stenosis. Mitral valve surgery alleviates symptoms of heart failure, prevents or reverses ventricular remodeling, and decreases mortality in patients with severe mitral valve disease.
The study, titled "Isolated Mitral Valve Surgery: The Society of Thoracic Surgeons Adult Cardiac Surgery Database Analysis," was published online this week in The Annals of Thoracic Surgery, the official journal of the largest association in its specialty.
For more information: Heather Sammons, Communications Specialist, 304-285-7256