WVU Heart and Vascular Institute offers new procedure for the treatment of esophageal disease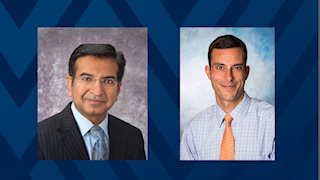 MORGANTOWN, W.Va. – The WVU Heart and Vascular Institute's Center for Esophageal Disease is offering a new treatment for patients with achalasia, a disorder that causes the esophagus to spasm and prevent proper swallowing. The peroral endoscopic myotomy (POEM) procedure provides a minimally invasive way to treat the condition.
The procedure allows surgeons to perform a myotomy, or cutting of the muscular walls of the esophagus, endoscopically through the mouth instead of robotically through the abdomen. Because the procedure does not require access through the muscles of the abdomen, patients have a much shorter recovery and are generally able to go home the same day.
"This procedure allows us to serve a larger segment of patients who suffer from achalasia with better outcomes," Ghulam Abbas, M.D., Center director, said. "The WVU Heart and Vascular Institute's Center of Esophageal Disease provides the resources we need to perform this procedure and develop a reputation for excellence in esophageal care."
The WVU Heart and Vascular Institute is the first provider in the state to offer this minimally invasive procedure.
"The POEM procedure is a cutting edge technology for a condition that greatly impacts patients' lives," Justin Kupec, M.D., Center co-director, said. "Having the opportunity to provide this procedure in West Virginia reduces the stress and inconvenience our patients previously faced when they had to travel out of state for treatment."
For more information: Heather Sammons, Communications Specialist, 304-285-7256