WVU Heart and Vascular Institute surgeons again pioneer first-in-the-nation device for aortic valve repair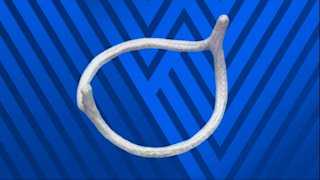 MORGANTOWN, W.Va. – The WVU Heart and Vascular Institute is the first center in the United States to implant the HAART™ 200 Aortic Annuloplasty Device for Bicuspid Aortic Valve Repair, invented by Heart and Vascular Institute surgeon J. Scott Rankin, M.D.
A bicuspid aortic valve (BAV) is a common congenital heart malformation in which the valve has only two leaflets instead of the usual three. Most people with BAV develop aortic insufficiency, or a leaking valve, and need a valve replacement between ages 40 and 60.
The HAART 200 device, which received FDA approval in August, is a rigid ring that reshapes and reinforces the patient's existing valve rather than replacing it. The device, manufactured by BioStable Science & Engineering, Inc., is the first and only commercially available device designed for repairing bicuspid aortic valves.
"These new rings provide a significant advancement in our armamentarium for our primary aortic valve repair program at WVU," Vinay Badhwar, M.D., executive chair of the Heart and Vascular Institute, said.
Lawrence Wei, M.D., director of the Center for Aortic Valve Disease and co-director of the Center for Aortic Surgery; Dr. Badhwar; and Dr. Rankin performed the surgery last week. The patient is recovering well.
The Center for Aortic Valve Disease is focused on providing innovative therapies, including transcatheter, sutureless, minimally invasive, and autologous reconstructive solutions, and is among the most advanced centers in the nation.
"Surgical repair of the bicuspid aortic valve can be a complex, three-dimensional problem because of variability in the valve anatomy," explained Rankin. "Implantation of the HAART 200 Aortic Annuloplasty Device conforms the native valve to the three dimensional shape of the device, creating a circular valve geometry and aligning the leaflet commissures into the preferred 180 degree orientation. Conforming the native valve to this shape simplifies assessment and reconstruction of the valve leaflets and creates a central flow pattern of blood through the valve, which may improve the long-term durability of the repair."
In June, the same team of surgeons became the first in the United States to place the HAART 300 Aortic Annuloplasty Device, also invented by Rankin. The device is used to repair the more common tricuspid aortic valve.
For more information: Sarah Wisniewski, Communications Specialist, 304-285-7270