WVU Hospitals receives national designation as Ebola Treatment Center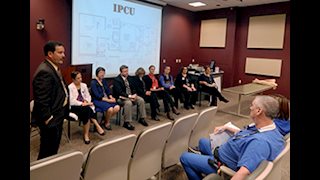 MORGANTOWN, W.Va. – WVU Hospitals has been designated by the Centers for Disease Control and Prevention (CDC) as an Ebola Treatment Center. The CDC has also validated the West Virginia Department of Health and Human Resources (DHHR) Office of Laboratory Services for Ebola testing.
WVUH is the only medical center in West Virginia to earn the designation. The nearest designated centers until now were in Washington D.C. and Cleveland. WVUH was selected by state health officials and assessed on-site by infection control and safety teams from the CDC.
Altogether, 49 hospitals nationally have been identified by U.S. officials as Ebola Treatment Centers based on their ability to provide the necessary staff, training, equipment, and other resources to treat patients with the unique care requirements of Ebola Virus Disease (EVD). More hospitals are expected to be designated as Ebola treatment facilities in coming weeks.
"I'm very proud of the team of clinicians at WVU Healthcare that stepped up to make this happen," Albert Wright, president and CEO of WVU Hospitals, said. "Our goal is to provide the most comprehensive care possible for the citizens of West Virginia and the surrounding areas that we serve. This CDC designation is a nice recognition of our continued focus on excellence, safety, and patient care."
The CDC validation for DHHR's Office of Laboratory Services (OLS) affords the lab the capability to report and send 44 samples simultaneously to the CDC as "presumptive positive" for Ebola. Three staff members are trained at OLS in the safe handling and testing of Ebola specimens. The CDC would be used to confirm positive test results. Specimens that test negatively for Ebola are considered "confirmed negative" and can be reported out by the lab without any further testing conducted at the CDC level. The amount of time to test a specimen would depend on the amount of specimens received, but typically, results should be available within four to six hours.
"This is another example of West Virginia being proactive and prepared in the event Ebola testing is needed," Dr. Rahul Gupta, state health officer and commissioner for DHHR's Bureau for Public Health, said. "We remain vigilant in our health and medical preparations in the event a case of Ebola was ever to occur in West Virginia."
The CDC team visited the Ruby Memorial Hospital Emergency Department in Morgantown and toured the Infection Prevention and Containment Unit (IPCU) in December. Team members discussed staffing, training in the proper use of personal protective equipment (PPE), and laboratory and waste management procedures.
A multidisciplinary team at WVU Healthcare has been preparing since August for the possibility of treating a patient with suspected or confirmed EVD while ensuring the safety of healthcare workers and other patients. The specially designed and secure isolation rooms in the IPCU were built in November. The unit can handle screening and care for up to five patients. The IPCU includes a bio hood, lab services, and specific rooms for donning and doffing protective clothing and equipment.
"The goal is to care for patients with the utmost compassion and professionalism – and to ensure the safety and health of employees and members of the community," Wright said.
No Ebola cases have been reported in West Virginia.
"Significant designations like these from the CDC show that West Virginia is well prepared to continue to protect the health and well-being of our citizens," DHHR Cabinet Secretary Karen L. Bowling said.
--WVU HEALTH--
15-019
For more information: Amy Johns, Director of Public Affairs, 304-293-7087
alj: 02-03-15