WVU Medical Laboratory Science program celebrates 70th anniversary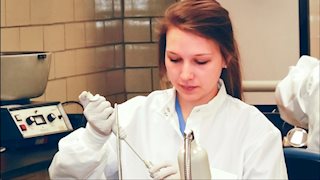 The West Virginia University School of Medicine's Medical Laboratory Science program will celebrate its 70th anniversary with a special ceremony on Saturday, April 1, 2017 at WVU's Erickson Alumni Center.
"This is a great opportunity to showcase our program to potential students and to connect with alumni and potential employers," said Beverly Kirby, Ed.D., director of WVU's Division of Medical Laboratory Science.
Originally called the Medical Technology program, it is the oldest allied health program at West Virginia University and was founded in 1945 by Edward J. Van Liere, M.D., dean of the School of Medicine, and G.G. Dodds, M.D. The first class of three students graduated with a bachelor of science degree in 1947. Since that time, the program has graduated nearly 1,000 clinical laboratory scientists. Graduates live and work throughout the United States and the world.
Medical laboratory scientists are in high demand as the country faces a national shortage. Students can choose from one of two areas of emphasis: Clinical Laboratory Science or Histotechnology. In addition, many students go on to medical school, the Pathologists' Assistant program or pursue other professional degrees.
"With a 100 percent employment placement rate or advanced degree options, our students are well prepared for whatever path they choose," Dr. Kirby said. "They are trained to perform tests, interpret data and analyze results to provide information needed for diagnosing and treating diseases."
The Medical Laboratory Science division is affiliated with many health care facilities in the state of West Virginia. Not only do they serve as a base for clinical instruction, they are the site of care for countless West Virginians.
The daylong celebration will kick off with the traditional white coat ceremony at 10 a.m. in Okey Patteson Auditorium at the WVU Health Sciences Center. Evening events will begin at 5 p.m., with a social hour at the Morgantown Event Center. The program will conclude with a 6 p.m. dinner honoring the first graduate of the Medical Laboratory Science Program, Jean Teter.
For updates on the WVU School of Medicine, follow us on twitter @WVUMedSchool, like us on Facebook or visit medicine.hsc.wvu.edu.
—WVU—
Photos: (1) WVU Medical Laboratory Science student in the laboratory; (2) Class of 1967 Medical Technology program graduates; (3) Medical Laboratory Science students using the multi-headed scope.
Contact:
Tara Scatterday
Director, Communications & Marketing
WVU School of Medicine
304-293-0630 | tdscatterday@hsc.wvu.edu