WVU medical student hosts panel discussion on human trafficking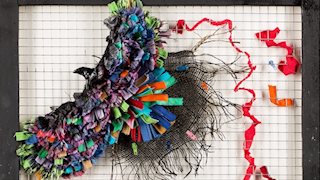 Each year, 45.8 million people around the world are enslaved, and 68 percent are subject to forced labor. According to the Walk Free Foundation, over half of victims of slavery are women and girls and nearly one in three victims of slavery is a child.
Not on our watch. January is Human Trafficking Awareness Month, and the West Virginia University Health Sciences Center will hold a panel discussion on the role of healthcare workers in healing and preventing human trafficking on Friday, Jan. 13 at noon in room 1905. No RSVP is required, and the public is welcome to attend. A live webcast will be available for those unable to attend and will stream here: https://replay.mdtv.hsc.wvu.edu/replay/webcastShow.html?key=XQiZzwh5TVSGK6m.
Two human trafficking survivors will share their personal experiences. The panel will be moderated by third-year medical student Terri Davis and will include several experts in the field:
Theresa Flores, Human Trafficking Survivor, Founder of S.O.A.P. (Save Our Adolescents from Prostitution)
Margeaux Gray, Human Trafficking Survivor
Dr. Patrick Kerr, Associate Professor, Department of Behavioral Medicine and Psychiatry, WVU School of Medicine
Anne M. Lofaso, Professor, WVU College of Law
Dr. Susan Newfield, Chair of Family and Community Health, International Program Coordinator and Associate Professor, School of Nursing
Dr. Hanni Stoklosa, Department of Emergency Medicine, Brigham and Women's Hospital, Harvard Medical School and Executive Director of HEAL Trafficking (Health, Education, Advocacy, Linkage)
Davis recently published two articles on human trafficking in the American Medical Association's Journal of Ethics. Based on her childhood friendship with a survivor of sexual abuse and human trafficking, Davis realized the need to educate healthcare providers about the ethical, clinical and legal complexities of responding to a patient's needs.
This event will be held in coordination with the opening reception of the "Not On Our Watch" art exhibit at the Monongalia Arts Center, 107 High St., Morgantown, on Jan. 13 from 6 to 8 p.m.
In collaboration with the Hope and Liberation Coalition, artwork in this exhibit is an examination of the role that healthcare workers serve in the identification, healing and prevention of human trafficking. "Not On Our Watch" will be on display at the MAC from Jan. 13 through Feb. 4, 2017.