WVU medical students meet their match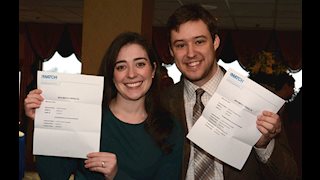 Medical graduates selected for residency training
MORGANTOWN, W.Va. – David Shahbodaghi, a fourth-year medical student on WVU's Charleston campus from New Albany, Ohio, comes from a long line of rural family medicine physicians. During his childhood, he was able to see first-hand the rewards and trials of being a small-town doctor in his uncle's busy medical practice. He also knows what it means to serve his country. Shahbodaghi is an officer in the Army and matched into the Army's family medicine residency program at Fort Gordon in Augusta, Ga.
The West Virginia University School of Medicine's Class of 2015 has six graduates matching into military residency programs.
Christopher Irwin of Somerset, Pa., was fascinated by the field of medicine from an early age and was always the person willing to help others.
"The reason I want to be a United States Army physician is to take care of the men and women who protect our freedoms and their families," he said. "There are no greater heroes in this world than the people putting their own lives on the line so that we may enjoy ours."
Irwin is a second lieutenant in the Army and will be promoted to captain upon graduation. He matched into the internal medicine residency program at Madigan Army Medical Center in Tacoma, Wash.
For four years, students at the WVU School of Medicine have worked toward Match Day – the day they learn where they will spend the next several years as resident-physicians. WVU medical students, as well as those throughout the nation, participated in the complex process that matches graduating medical students' preferences with program preferences.
Members of the Class of 2015 received traditional Match Day sealed envelopes, which contained letters identifying their resident match at noon today. This year's WVU celebrations were held simultaneously at Lakeview Golf Resort and Spa in Morgantown, Edgewood Country Club for the Charleston campus, and the Purple Iris in Martinsburg for the Eastern campus.
"We have seen more students choosing to stay in the state or nearby for the start of their residency training, despite being heavily recruited by programs all over the country," Norman Ferrari, M.D., vice dean for education and academic affairs and chair of the WVU Department of Medical Education. "Research has shown that resident-physicians tend to establish their practices close to where they train. Forty percent of our graduating medical students will begin their residency training in West Virginia this July."
Two local newlyweds are also among the Class of 2015 graduates. Adriana Bonasso Cline and Brendan Cline met at Morgantown High School during their sophomore year. He proposed during their second year of medical school at WVU.
"Adrianna and I started dating during a biology class we had together at WVU," Brendan Cline said. "It was the only class I had that year that I didn't miss once."
With the demanding schedule and difficult coursework that medical school provides, having a partner to navigate the challenges can be helpful.
"Brendan and I were married in October and were very fortunate to have a built-in support system in each other," Adrianna Cline said. "We often joke that if we could survive the second year curriculum together, surviving our first year of marriage should be easy in comparison."
Lucky for the new Mr. and Mrs. Cline – and soon-to-be Dr. and Dr. – they get to keep their hearts in Morgantown while they head to the research triangle in North Carolina together. Adriana will work in pediatrics at University of North Carolina, Chapel Hill, while Brendan will pursue radiology at Duke University.
Fifty percent of the Class of 2015 will train in internal medicine, pediatrics, family medicine, or obstetrics/gynecology, fields that typically represent a person's primary care. The most popular fields this year were the specialties of internal medicine, family medicine and pediatrics.
"It is gratifying that so many WVU students decided to pursue training in areas of medicine that directly deliver care to patients," Clay Marsh, M.D., vice president and executive dean of WVU Health Sciences, said. "Improving the health of our citizens and communities is our mission, and with these talented and bright young doctors dedicating themselves to caring for patients, the future status of American medicine is much brighter."
Students in the School of Medicine Class of 2015 matched in 19 different fields and will go to 21 different states.
The National Residency Matching Program (NRMP) couples prospective applicants with residency programs. Each applicant makes a list ranking the residency program in their order of desirability. The residency programs do the same with the applicants, and the NRMP matches them up.
Residency training typically takes three to five years. Residents practice medicine under the supervision of experienced physicians before being certified in a specialty. Not all graduating medical students get matched.
WVU has the largest number of graduate medical education offerings in the state, with more than 50 specialty training programs, all of which are fully accredited. One-half of the training programs are the only such specialty programs offered in the entire state.
Residency training begins at WVU in July for more than 100 new residents from medical schools across the country.
School of Medicine commencement ceremonies will be held on Sunday, May 17 at the Morgantown Event Center at Waterfront Place. J. Michael Gaziano, M.D., M.P.H., cardiologist and chronic disease epidemiologist at Harvard Medical School and West Virginia native, will serve as the featured speaker.

Top States: West Virginia (40 percent), North Carolina (11 percent), Pennsylvania (10 percent), Ohio (4 percent), New York (4 percent) and Virginia (4 percent)
Top Specialties: Internal Medicine (21 percent), Pediatrics (12 percent), Family Medicine (9 percent), Anesthesiology (6 percent), Emergency Medicine (6 percent), Obstetrics/Gynecology (5 percent), Psychiatry (5 percent) and General Surgery (5 percent)
Twitter: Students, faculty and staff participated in tweeting pictures and information during the Match Day ceremony using the following hashtags: #WVUMatch15; #Match2015; #iMatched.
Photo captions: (Top) Fourth-year WVU medical student Rosa Cho celebrates after learning that she will complete her transitional year at WVU before going onto residency training in physical medicine and rehabilitation at New York Presbyterian Hospital. Scott Cottrell, Ph.D., associate dean for student services at the WVU School of Medicine looks on.
(Bottom) Fourth-year medical students Adriana Bonasso Cline and Brendan Cline proudly display their letters on Match Day. Adriana matched in pediatrics at University of North Carolina, Chapel Hill, while Brendan matched in radiology at Duke University.
--WVU HEALTH--
15-054
For more information: Amy Johns, Director of Public Affairs, 304-293-7087
tds: 03-20-15