WVU Medicine 2015 Employee Appreciation Picnic happening July 16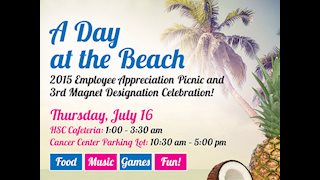 Need to get away from it all for a while? Spend "A Day at the Beach" during this year's WVU Medicine Employee Appreciation Picnic and 3rd Magnet Designation Celebration Thursday on July 16! With music, games and a bevy of delicious eats, this party is sure to have you feeling the island vibe.
The nightshift event will be from 1-3 a.m. in the HSC Cafeteria, and the dayshift event will be from 10:30 a.m. to 5 p.m. in the Cancer Center parking lot.
During the dayshift event, a little fun in the sun is just what the doctor ordered, with local music duo Tom Bachelor and Cloud Shorty providing acoustic guitar and steel drum sounds of the roots, reggae and rock variety. The nightshift event will feature Tom Bachelor Band's recorded music so those working the morning hours can keep jammin'.
A day at the beach wouldn't be the same without a stroll down the boardwalk, where you'll find plenty of games and activities provided by this year's participating departments. Groups currently signed up to host booths at the dayshift event include:
Bravo! Program/Center for Education and Organizational Development
Cancer Center/Bone Marrow Transplant Unit
Chestnut Ridge Center
Compliance
Emergency Medicine/Urgent Care
Employee Health/Wellness
ENT
Family House/Volunteer Services/Friends Gift Shop
Health Information Management
Neurology
Occupational Medicine
Revenue Cycle Operations
United Way - WVU MedicineTeam
During the nightshift event, the Bravo! Program and the Magnet Designation Celebration groups will provide games and information.
Both events will include a refreshing menu of food, drinks and desserts. Picnic tickets will not be distributed. You will need to bring your ID badge to gain access to the food tent. And no free meals will be provided in the Ruby Cafeteria, so come join the party!
A big thanks to the 2015 Employee Appreciation Picnic and 3rd Magnet Designation Celebration vendors: Full Bowl Catering (Mario's Fish Bowl), Cold Stone Creamery, Coca-Cola Bottling Company, Home City Ice and McGuffy Tents!
The picnic committee is also grateful for those members of management who have signed up to volunteer at the event!