WVU Medicine Berkeley, Jefferson Medical Centers announce flu season visitation policy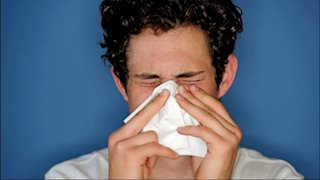 MARTINSBURG, W.VA. – WVU Medicine Berkeley Medical Center and Jefferson Medical Center recently announced temporary changes to patient visitation at both hospitals in an effort to prevent the spread of flu.
This year's flu season has been considered "moderate to severe" in nature with cases doubling in the past few weeks. The Centers for Disease Control and Prevention (CDC) reports that the majority of flu cases can be tracked back to the H3N2 strain, which is particularly dangerous for children, the elderly, and individuals with respiratory or cardiac problems.
Effective immediately, visitors at Berkeley Medical Center and Jefferson Medical Center should be prepared for the following changes:
One visitor, who is not visibly ill, is allowed per patient at all times for decision making and support.
Visitation in all areas will be limited to no more than two visitors at a time, plus the permanent guest for decision making and support.
No visitors with flu-like illness will be permitted to visit.
Berkeley Medical Center and Jefferson Medical Center reserve the right to ask any visitor who has symptoms of illness to wear a mask and/or to leave for the best interest of patients and staff.
Additionally, children under the age of 12 are discouraged from visiting the hospitals throughout the remainder of flu season. Visitors are also being encouraged to wash their hands frequently.
"Our goal is to provide the best quality of care in an environment that is safe for our patients, staff and visitors," Vice President/Chief Nursing Officer Samantha Richards said. "We can protect them by managing their exposure to illnesses that are easily spread, like the flu."
According to Richards, infection control staff members carefully monitor flu activity levels in both hospitals and the community. When certain thresholds are met, action must be taken to halt the spread and limit the number of visitors allowed in patient areas.
"We understand this may be challenging, and we will keep these rules in place only for as long as necessary when influenza is widespread," Richards added, stating that notification will be posted once the limitations are lifted.
Anyone experiencing flu-like symptoms, such as the sudden onset of fever, chills, muscle aches, congestion, cough, runny nose, headache, and fatigue, should contact their physician to confirm the diagnosis. WVU Medicine Urgent Care is also open seven days a week with two convenient locations in Inwood and Charles Town.
For more information: Teresa McCabe, Vice President of Marketing and Development, 304-264-1223