WVU Medicine Berkeley, Jefferson Medical Centers benefit from 30th Annual Golf Classic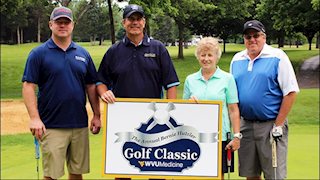 SHEPHERDSTOWN, W.VA. - Organizers of the 30th annual Bernie Hutzler Golf Classic, sponsored by the WVU Medicine University Healthcare Foundation, are calling Monday's event a huge success as the annual golf fund raiser netted $67,000 to purchase equipment for use at WVU Medicine Berkeley Medical Center and Jefferson Medical Center.
Co-Chairs Dan Sytsma and Charlie Lowery reported that 235 golfers played in the annual golf classic held at Cress Creek in Shepherdstown. The winning team of Steve Mohr, Scott Mohr, Denise Andrews, and Adam Larck shot a 50 to earn the overall first place finish.
The proceeds from this year's event will be used to purchase a newborn hearing screening system at Jefferson Medical Center and equipment for the new outpatient surgery center to open this fall at MOB 3, 880 Tennessee Ave., at Berkeley Medical Center.
"We thank all of our supporters who year after year make our golf fund raiser a huge success as one of the premier golf events in the region," Teresa McCabe, vice president marketing and development for Berkeley and Jefferson Medical Centers, said.
According to McCabe, the golf classic was established in 1988 as a fund and friend raiser for the Gateway Foundation in support of City Hospital. Since that time, the tournament was combined with the Jefferson Memorial Hospital golf tournament and now supports both WVU Medicine Berkeley Medical Center and Jefferson Medical Center.
"To date, more than $1.6 million has been raised from this tournament and the former Jefferson Golf Tournament to fund patient care equipment, new programs, and enhanced services at Jefferson and Berkeley Medical Centers," McCabe said.
The Bernie Hutzler Golf Classic is held annually on the first Monday in June. Next year's event will be held on June 4 at The Woods in Hedgesville. For more information, call 304-264-1223.
For more information: Teresa E. McCabe, WVU Medicine Eastern Panhandle Vice President of Marketing and Development, 3