WVU Medicine Berkeley Medical Center announces 2018 nursing award winners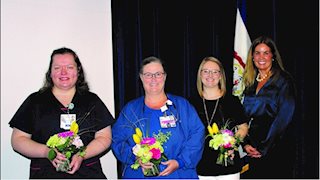 MARTINSBURG, W.Va. – WVU Medicine Berkeley Medical Center celebrated National Nurses Week 2018 with a ceremony on May 11 to announce the 2018 nursing award recipients.
Nursing Excellence Awards were presented to four outstanding registered nurses, nominated by their peers and colleagues. These nurses demonstrate clinical excellence in providing compassionate and personalized care to their patients, exhibit a commitment to the profession of nursing, and display leadership behaviors that inspire others and help shape nursing practice.
The 2018 Nursing Excellence Award winners were Julia Gray, R.N., medical/surgical; Brittany Zeller, R.N., critical care; Mary Beth Thompson, R.N., maternal/child; and Janie Hess, R.N., surgical.
Nurse Technician Excellence Awards were also presented to four individuals during the ceremony. This award is presented to a nursing service staff member as an acknowledgement of appreciation and respect for their role in the nursing care at Berkeley Medical Center.
The 2018 Nurse Technician Excellence Award winners were Amy Gosnell, maternal/child; Crystal White, critical care; Breanne Kelley, medical/surgical; and Beth Valentine, surgical services.
A poster contest was also held featuring entries from all nursing departments at Berkeley Medical Center. The mother/baby unit and medical/surgical unit tied for first place.

For more information: Teresa McCabe, Vice President of Marketing and Development, 304-264-1223