WVU Medicine Berkeley Medical Center Lab accredited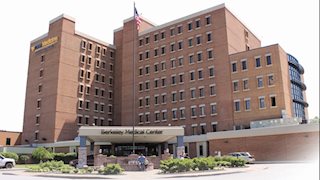 MARTINSBURG, W.Va. – The laboratory at WVU Medicine Berkeley Medical Center has been awarded accreditation by the College of American Pathologists (CAP) and AABB (formerly American Association of Blood Banks) based on the results of recent onsite inspections.
The laboratory's medical director, Ryan H. Livengood, M.D., was recently advised of this national recognition and congratulated for the excellence of the services being provided.
Berkeley Medical Center's laboratory is one of more than 8,000 CAP-accredited laboratories worldwide. The CAP Laboratory Accreditation Program, begun in the early 1960's, is recognized by the federal government as being equal to or more stringent than the government's own inspection program. Berkeley Medical Center's laboratory has been CAP accredited since 1983.
During the CAP accreditation process, an unannounced team of inspectors examines the laboratory's records and quality control procedures for the preceding two years. CAP inspectors also examine laboratory staff qualifications, laboratory facilities and equipment, the safety program and record, as well as the overall management of the laboratory.
"Laboratory testing has grown in scope and complexity requiring a rigorous accreditation process such as CAP provides," Dr. Livengood said. "Every day, our laboratory staff ensures the highest standard of care for our patients, and this accreditation authenticates their quality work."
The establishment of AABB predates CAP and grants accreditation specifically for Berkeley Medical Center's transfusion services assessing the quality and operational systems in place for the use of blood products. Not all CAP-accredited laboratories seek out AABB accreditation for transfusion services.
"The added level of detail required by a dedicated AABB inspector further underscores our blood bank's dedication to quality performance and patient safety," Livengood explained.
More information about WVU Medicine Berkeley Medical Center can be found at www.wvumedicine.org/berkeley. More information about the CAP can be found at www.cap.org. More information about AABB can be found at www.aabb.org.
For more information: Teresa McCabe, Vice President of Marketing and Development, 304-264-1223