WVU Medicine Berkeley Medical Center Wound Center accredited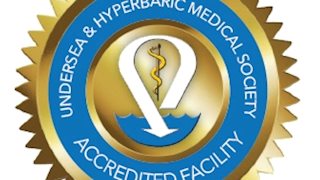 MARTINSBURG, W.VA. -- The Center for Wound Care and Hyperbaric Medicine at WVU Medicine Berkeley Medical Center has received national accreditation by the Undersea and Hyperbaric Medical Society (UHMS), becoming the first wound care center in West Virginia to receive this distinction.
High performance standards are required for accreditation, and only a little more than 100 hyperbaric centers in the United States have achieved UHMS accreditation. Accepted as the "gold standard" in accrediting clinical hyperbaric facilities, the UHMS program and standards have been recognized by The Joint Commission.
"Achieving UHMS accreditation means that we have met the most vigorous industry safety standards, practice evidence-based medicine, and have high ratings in patient outcomes and satisfaction," Ginna Treadwell, RN, director of the Center for Wound Care and Hyperbaric Medicine, said.
The Center for Wound Care and Hyperbaric Medicine is an outpatient department of WVU Medicine Berkeley Medical Center. It opened in November 2012 with one hyperbaric chamber, and a second chamber was added in September 2013. The Center offers a comprehensive approach for treating patients with non-healing wounds.
"We offer treatment locally for patients with chronic wounds, which are wounds that do not heal," Robert Bowen, M.D., medical director, said. "For most of us, a minor cut or scratch poses little problem. However, there are many people who do not have the ability to heal properly due to poor blood circulation, diabetes, or other chronic problems. For these individuals, a simple sore or cut can result in serious infections, gangrene, or even amputation."
The Center for Wound Care and Hyperbaric Medicine is staffed with specially trained physicians, nurses, and technicians that assess each patient looking at underlying causes that lead to chronic wounds. After each assessment, the treatment plan is then individualized to meet the specific needs of that patient.
Hyperbarics is defined by Medicare as a treatment modality in which the entire body is exposed to oxygen at increased pressures. It is beneficial in getting oxygen to the areas of the body that are oxygen deficient.
Patients served by the Center for Wound Care and Hyperbaric Medicine include those with diabetic ulcers, pressure ulcers, arterial ulcers, venous ulcers, traumatic wounds, and non-healing surgical wounds. Cancer patients who have undergone radiation therapy and may experience symptoms from radiation burns months or years after treatment has ended can also benefit from this service.
Since the Center for Wound Care and Hyperbaric Medicine at Berkeley Medical Center opened in 2012, the management and staff have been preparing for the UHMS accreditation. The application process was initiated a year ago and concluded with an on-site visit by the survey team in October. Treadwell was recently notified by UHMS that the survey was successful and that the Center was awarded a three-year accreditation.
"Being the first wound care center in West Virginia to receive UHMS accreditation is quite an achievement," Anthony P. Zelenka, WVU Medicine University Healthcare president and chief executive officer, said. "Congratulations to the entire team at our Center for Wound Care and Hyperbaric Medicine. This gold standard accreditation supports our health system's mission of providing excellence in health and wellness services."
--WVU MEDICINE--
For more information: Teresa E. McCabe, University Healthcare Vice President Marketing and Development, 304-264-1223